Published June 28, 2021
She's Seen It All
Dawn Overend picked up a brochure in the Indiana State Museum lobby last fall and started reading about the 11 state historic sites. She'd been to a few, but others were new to her.
"I wanted to see all of them," she said.
And now she has.
Overend used some of her time during the pandemic to tour all the sites. Over six months, she experienced the beauty and serenity of the Gene Stratton-Porter State Historic Site, the history and grandeur of Angel Mounds, and everywhere in between.
"It's obvious there's a lot of pride in these sites," she said. "The museum's done a phenomenal job keeping them up and getting really great docents. And I found them all just incredible. I really enjoyed going to all of them."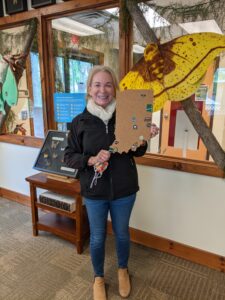 Most of the time, she took advantage of the tours that are available only to Indiana State Museum and Historic Sites members. The tours, which resume in August, provide members with a behind-the-scenes look at portions of the sites not typically open to the public, like the upstairs in the governor's house at the Corydon Capitol State Historic Site and the rooms in the Culbertson Mansion that the Culbertsons' live-in staff used. (Membership information is here.)
"Our members only behind-the-scenes tours provide not only exclusive access to areas not shown on a tour, they strengthen connections of the real people, places and things at each unique location," said Membership Manager Carrie Miller, who coordinates the tours. (In recognition of Overend's feat, Miller presented her with a cork board in the shape of Indiana and attached lapel pins from each site.)
Overend found the two Gene Stratton-Porter sites "amazing," and said, "I did not know anything about her before I went to the first site, and I thought she was the most incredible person." She also loved the T.C. Steele site. "Another person I had never heard of. But I now have."
"But I liked all of the sites – for different reasons," she said.
Overend is a retired lawyer whose last position was working for a wealth management firm in Chicago. She moved to Indiana after retiring three years ago and travels whenever possible. She's been to all 50 states and 35 countries, and the interview for this story took place during her two-week trip to Missouri, where she was taking her time driving the backroads and seeing whatever she wanted to see.
"My parents died when they were very young and I decided to not have that kind of 'I can do that tomorrow' or 'I can do that when I retire' approach because that doesn't always work out," she said.
"I always try to keep moving."