Published November 6, 2020
Thank You for Your Service
This Veterans Day, the Indiana State Museum will remember those who served as well as those who served those who served.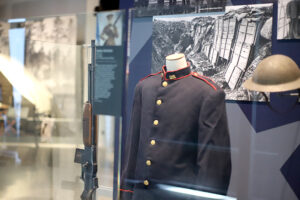 In a 60-minute walking tour called "Remembering Those Who Served," Adult Engagement and Program Manager Marcy Dodson will share stories of Hoosiers like the Ampey brothers, two of whom fought for the Union Army in the 54th Massachusetts Infantry Regiment because, as Black men, they were prohibited from joining an Indiana regiment. She'll also talk about Madge Minton, a World War II pilot and the only female in her class to graduate.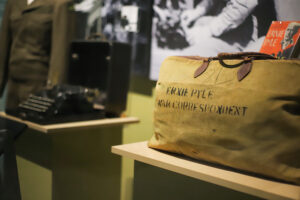 Visitors will see some of the museum's military weapons collection and artifacts from the Civil War, the Spanish-American War and the two world wars. (Tour times and ticket information is below.)
But Dodson also plans to highlight the people who supported the troops—like the great Hoosier war correspondent Ernie Pyle, whose typewriter and other possessions are on the display. And then there's the handiwork of the mother of Army Cpl. Clarence Griener, one of many who helped the World War I effort by knitting balaclavas (woolen caps) to send overseas or to give to their soldier.
"With everyone making homemade masks these days, I felt like that was an interesting comparison," Dodson said. "We're not in a world war, thank goodness, but we are experiencing a global crisis and many people are crafting something to help."
The tour ends with two distinctly different sites—a photo display of museum staff and community members who have served in the military and a Civil Defense sanitation kit created for civilians in the event of a nuclear attack during the Cold War.
Dodson said she wanted the tour to recognize the different ways people contribute to war efforts.
"There were veterans who participated in serving the country in the traditional, enlisted, formal way," she said, "but we should also recognize the sacrifices that were made on the home front."
Remembering Those Who Served will take place Nov. 11 at 11 a.m. and 1:30 p.m.; Nov. 12 at 11 a.m.; and Nov. 13 and 11 a.m.
Pre-registration for this 60-minute tour is encouraged due to small group sizes. Tickets are $8 (25% discount for members) and $3 for veterans or active armed forces members.