Published December 9, 2021
The Life & Works of T.C. Steele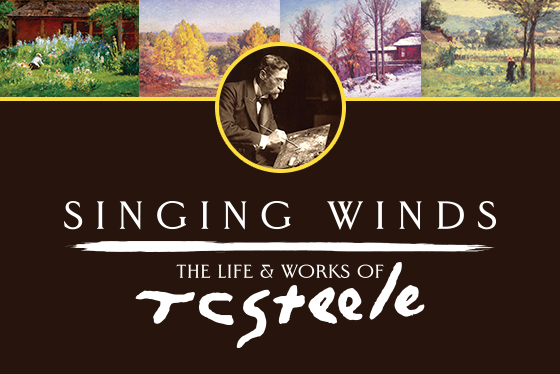 Tell us about your personal interest in T.C. Steele.
I've always had a passion for stories about Hoosiers who have followed their passion to make a difference, not only on the culture of Indiana but with a larger influence on the social and cultural landscape of America. Steele was widely celebrated in his time as one of America's great Impressionist artists. he certainly falls into the category of impactful Hoosiers.
What new or surprising thing did you learn about T.C. Steele during the course of filming the documentary?
I was so impressed by researching and reading many of Steele's journal entries and letters. He was a true transcendentalist when it came to his passion for the Indiana landscape. That passion is reflected in his works, and in his correspondence with his wife, fellow artists, and leaders from all over the world.
Why was T.C. Steele drawn to painting midwestern landscapes?
Steele's hardscrabble upbringing on the wooded farmlands of western Indiana gave him a real appreciation, and a deep love, for the Indiana wilderness. His own talent for various arts, from music to painting, was reflective of this sincere passion. After Steele returned from the famous art schools of Europe, he could have worked anywhere in the U.S. but chose to return to the Indiana wilderness that he so loved, and became famous as one of the Midwest's top landscape artists and leading American Impressionists.
What is your favorite T.C. Steele painting and why?
Two paintings. "Selma in the Garden" is a reflection of Steele at his Impressionist best and captures the true essence of American Impressionist art. Plus it showcases his wife's gardens at their home in Brown County. It is a lush and lovely work. The second is "The Poplars," which vividly captures the glory of an Indiana autumn, with trees that just seem to be lit on fire, they are so brilliant and showcase Steele's vivid palette that shined during the 1910s.
What impact does T.C. Steele have on artists today?
The Indiana Plein Air (outdoor) Painters Association features works from today's outdoor artists who continue to paint in the same tradition as Steele painted more than a century ago. The group continues to travel the state with various exhibits and painting excursions, often traveling to many of the same sites where Steele once painted.