Published December 15, 2022
The Song Remains the Same
By Jeanne Akins, Limberlost Cabin Tour Guide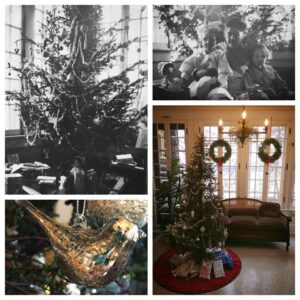 Gene Stratton-Porter reminisced in "Making Christmas Last a Year," a chapter in her book Let Us Highly Resolve, about some of the activities and preparations from Christmas holidays during her years. In her book Laddie, which she said was 75 percent autobiographical, she wrote about her family's preparations for Christmas when she was a child growing up on an Indiana farm.
The folks in the mid-to-late 1800s accomplished holiday preparation and tasks differently, but the dedication of time and money in planning were much the same. Baking and cooking enough food for large family gatherings and any unexpected guests took weeks of preparation. The delicious smell of spices, breads, pies and cookies baking filled homes with wondrous aromas in Gene's day, the same as in today's homes.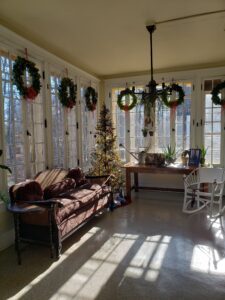 Fresh cut pine trees and garland were used to decorate homes for the Christmas holiday then.  Stockings were hung and presents were wrapped and hidden until Christmas. A hundred years later, echoes of the same anticipation and excitement can still be heard in the voices and seen on the faces of children waiting for Christmas Day.
There are things Gene's generation did not have that we do. No radios when Gene was growing up.  No televisions. Or cell phones. Or game apps. But one thing that we can easily recognize if we were to step back in time would be the Christmas songs – some of the same Christmas songs we hear today.  Look at the following list of Christmas songs from over 100 years ago:
Silent Night (circa 1818-1863)
Joy to the World (circa 1839)
Hark! The Herald Angels Sing (circa 1840)
It Came Upon a Midnight Clear (circa 1846-1850)
O Holy Night (circa 1847-1855)
Good King Wenceslas (circa 1853)
Angels We Have Heard on High (circa 1855)
We Three Kings of Orient Are (circa 1857)
Jingle Bells (circa 1850-1859)
Up On the Housetop (circa 1860)
What Child Is This (circa 1865 – 1871)
O Little Town of Bethlehem (circa 1868)
Jolly Old St. Nicholas (late 1880s)
Are you surprised by how many of the songs our generations shared?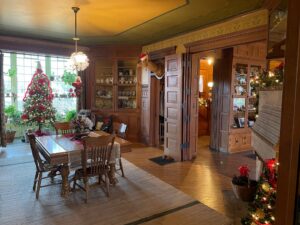 Because Gene Stratton-Porter played the piano and violin, it is reasonable to believe that she and the Porter family played and sang these Christmas songs during the holiday season. She refers to "Up on the Housetop" in Laddie, which shows she was familiar with it from her childhood.
Nowadays, the constant barrage of Christmas music over the airwaves may be the bane of the Christmas season for some; however, knowing that these songs brought comfort and joy to past generations of our own families may help us feel a little less "Grinch-like" and a little more jolly.
Happy Holidays from the Limberlost Historic Site staff.