Published August 4, 2021
The State Museum Visits the State Fair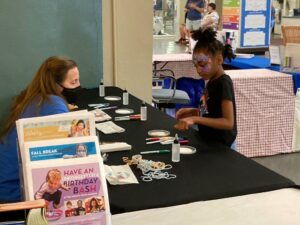 At the Indiana State Fair, a young person's thoughts turn to roller coasters, deep-fried cheesecake and unusually large farm animals. Science, art, history and math too.
At least, that's what Indiana State Museum and Historic Sites Vice President of Programs and Education Engagement Bethany Thomas and her staff hope. They'll be at the fair Thursdays through Sundays until Aug. 22, presenting seven activities and four shows that include "Make a Fossil" and "Mindboggling Science Show." (The full schedule is below. One of the shows, "Fred the Mastodon," was presented during the first weekend of the fair and won't be repeated.)
"It's about getting out and giving back to the community," Thomas said on the first day of the fair as she staffed the museum's table in the Arts Building for a five-minute activity called "Chemistry is Colorful." "The more we can be out and about, the more we can make sure that people know us."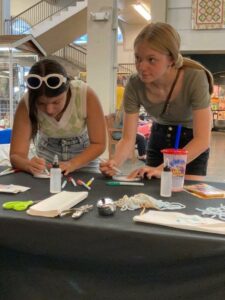 Thomas spent that afternoon teaching curious fairgoers about chromatography – a process for separating components of a mixture.
"You guys want to make some art with some chemistry?" she asked kids who stopped by.
She gave them a piece of filter paper, a circle about three inches in diameter, and a selection of markers and said: "I want you to draw shapes or a picture or something in the center of your circle. And try to use at least two different colors. You can draw an animal or just a big scribble or whatever you want. Just make sure you leave some white space. Have you ever seen tie-dye shirts? What we're going to do will end up looking like that."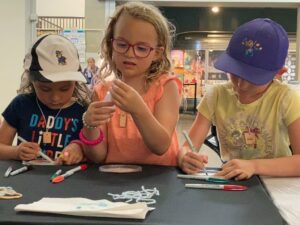 While the kids created their designs, Thomas told them and their adults about the state museum and historic sites – the camps that are offered, the new holiday train ride opening in November, the other programs that will be presented at this year's fair.
After the kids finished drawing, Thomas instructed them further: "I want you to drop water right in the center, and we're going to watch and see what the water does."
Kids watched as the ink spread and the colors mixed, and their reactions were unanimous: "Look at that! That is so cool!"
"And that," Thomas said, "is 'chromatography.'"
She slipped either a blue or yellow string through the hole in the filter, and kids walked away with a souvenir and a science lesson.
The Indiana State Museum and Historic Sites has had a presence at the Indiana State Fair for years, Thomas said. Longtime Director of Interpretive Programming and Performing Arts David McDaniel would spend two weeks at the fair, all day long, as the museum offered theater shows, activities, artifacts for show and tell, and costumed characters who would interact with state fair visitors.
Thomas brought in more science to the mix, and this year the state fair wanted more kid-friendly activities to go along with the quilt and art displays in the Arts Building.
The state fair is one of about six to eight community events throughout the year where museum staff members do activities with kids. Others include Celebrate Science Indiana and La Plaza's FIESTA Indianapolis.
"We do a lot," Thomas said. "And there's always more to be done."
The museum's remaining presentations at this year's state fair