Published December 18, 2020
These Old Bones Will Tell Your Story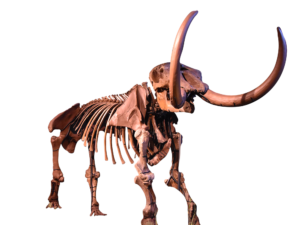 He's been dead for about 13,000 years and only been out of the ground for 22, but Fred the Buesching Mastodon still has stories to tell to help us understand the earth's past.
In his latest helpful venture, the Indiana State Museum's popular mastodon has helped an international group of scientists learn more about how—and why—mastodons moved across what is now Mexico, the United States and Canada, and why the extreme northern populations, with lower levels of genetic diversity, failed to survive.
The first large-scale genetic study of American mastodons, using DNA from Fred and 34 other animals, found that mastodons migrated much greater distances than researchers had initially thought, largely driven by changing climates.
The findings were first reported in the journal Nature Communications. The paper, written by four scientists at McMaster University in Ontario, Canada, and 15 other collaborating authors and researchers from Canada, the United States, Mexico and Australia, was facilitated with the support of many museums and research institutions that provided specimens for the study.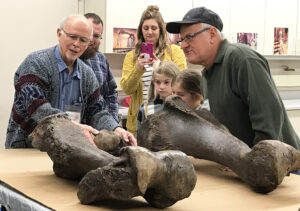 "This information is important because a lot of this ties into learning patterns of movements – why and where animals move when facing changing climatic conditions," Indiana State Museum and Historic Sites Senior Research Curator of Paleobiology Ron Richards said. "If we start looking today at changing climates, we can begin to predict what's going to happen with a lot of the wildlife communities – plants and animals. If it's happened in the past, we can use that as a model for the present and future."
Fred was found on the Buesching's Peat Moss & Mulch Inc. property outside Fort Wayne in 1998 when they were mining for peat. Archaeologists from Indiana University Purdue University-Fort Wayne dug up his bones, and the Buesching family turned them over to University of Michigan Paleontologist Daniel Fisher, who extracted the sample that was used in the DNA study.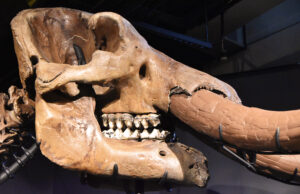 Fisher also determined that Fred was 33 when he died, probably from a tusk wound from another mastodon. (Museum visitors can see the hole under Fred's skull. Fred can be found on the first floor of the museum next to Frozen Reign: A State of Change.)
The Indiana State Museum and Historic Sites secured Fred from the Buesching family in 2006 and spent more than a year having him mounted and prepared to be exhibited. His skeleton, which is about 9 feet tall and 25 feet long, has been on display since 2013.
Meanwhile, Fisher continues to work with Fred's remains. A future study will reveal when and where Fred lived as an adolescent and as an adult male.
"Indiana has produced a lot of mastodon remains," Richards said. "I'm very excited that an Indiana specimen that is here on display is making a contribution to the increasing wealth of global scientific knowledge."