Published March 3, 2022
Trailblazers: DaeDae Young
"When a kid gets their first bike, their face lights up. Now, they can go anywhere."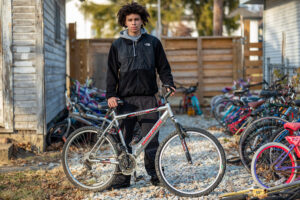 DaeDae Young has always had a talent for restoring and fixing things. He could see how things fit together in his mind, a spatial awareness that has allowed him to take on bike repairs even at an early age. "I started working on bikes when I was 11," Young said. "I used to live in this apartment, and everybody used to bring their bikes to me so I could fix them. I was usually able to figure out problems. Sometimes, I'd have people teach me how to fix what was wrong. Sometimes, I'd teach myself how to fix it. I've always liked tools and working with my hands, so fixing bikes came easy to me."
"Sometimes, we'd find bikes in the dumpster," Young added. "I'd pull them out, work on them to get them going, and give them to kids who didn't have a bike."
Although he eventually moved away from his childhood home at the apartment complex and out of the city, he continued working on bikes and began riding his bike more often. Later, he lived on the near northwest side as a young adult. That's where he learned he had cultivated a bit of a reputation as someone who knew his way around a toolbox and a set of gears.
His mechanical prowess landed him an offer as the head mechanic at the Biker Boyz & Girls Shop, an earn-a-bike and resale shop on the near northwest side.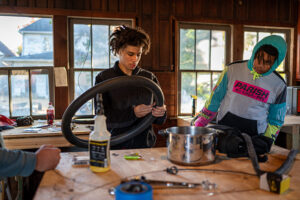 Since then, he's fixed up more than 100 bikes, and he's started teaching others how to maintain and repair their bikes. Proceeds from bike sales at Biker Boyz & Girls Shop go to fund youth development programs. Kids can earn a bike through work and volunteering in the community.
"Something important about the bike shop is that we work on bikes, but we also help others get bikes and teach them how to keep their bike on the road," Young said. "We can give bikes to some kids who don't have a bike and maybe wouldn't have another way of getting one. It's fun work, and I like working. But I'm also able to give back to people who never had a bike. To get a bike and use it to go anywhere you want is a big deal. It's like having a car for them because the young kids can use the bike to go anywhere they want.
"I remember how it felt when someone helped me get my first bike. I remember having someone take the time to help teach me how to work on bikes, to show me that things could be fixed. That was a huge deal to me at an early age. When a kid gets their first bike, their face lights up. Now, they can go anywhere."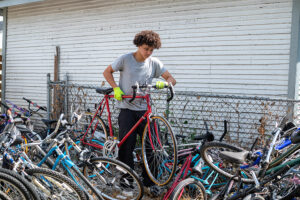 It's a gift that DaeDae is passing on to others. "I gave this one kid from the neighborhood a bike. He was probably nine years old. He was so happy. He'd never had a bike before. He was real happy, but then he told me he didn't know how to ride — he'd never been on a bike before. But even though he didn't even know how to ride the bike, he was so excited. So I taught him how to ride. I ran behind him, told him to start pedaling, and then he just took off. He was a quick learner. He just kept riding and rode out of sight."
DaeDae knows that there's something special about being a kid with a bike, about being able to go where you want and ride fast. It's a story he's familiar with. A story he's working to make familiar for others. "There's just something fun about being able to hop on a bike and ride out to meet your friends. A lot of kids like riding bikes, and they like learning how much fun bikes are. They can go to the park, go have some fun with some friends, go wherever and not have to wait on anyone to get them where they want to be."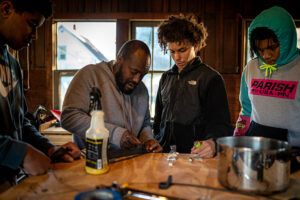 When he's not fixing bikes, he's likely to be found riding his own around town. "My favorite ride is to take the trails at Crown Hill Cemetery, especially when it's nice out and where there are a lot of other people walking and biking around. I'll ride up to the hill, sit up there and look out at the city. And then, I'll go down the hill. It's the fastest hill in the city. It's fun."
According to DaeDae, "Indy is a very bike-friendly city. Every day, I ride three to four miles. More people should get out and go for a ride. It's great exercise, and you'll be able to get where you want to go."
Story by Mark Latta, photos courtesy of Wildstyle.