Published February 22, 2022
Trailblazers: Leslie Dowell
"Bikes bring people together. How do I explain it? It's a hard thing to explain to people who've never felt it. Once I learned to ride, I've never wanted to stop."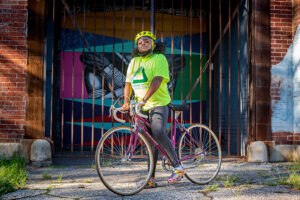 At age 15, Leslie Dowell is a rider on a mission. She's working, one invitation to ride at a time, to convince everyone around her that biking can be more than a way to get from one place to another. So far, she's had many successes.
"The other day, I was talking to my neighbor. And I'm like, 'I'm gonna ride my bike to the store. You wanna come?' He said, 'Yeah, let me try that— I'm down just for the ride.'"
Dowell has an energy about her, a vitality that shines when she's excited. Pedaling to work, riding through her neighborhood streets, asking her friends to join her— that makes her happy.
"When I come across my friends and people I know in the neighborhood," she said, "I'll ask if they want to ride. When we come up to people, that's just how we do it. So that's my motto. My motto is bike riding brings people together, especially your friends."
Dowell's desire to ride — and her motivation to convince others to ride — stems from an early childhood experience with cycling that highlighted the importance of family and community. "My older cousin taught me how to ride a bike. I think I was seven when I learned how to ride a bike without training wheels. My cousin, she asked, 'You want to ride the bike?' At first, it had training wheels on it. And then, one day, she took the bike and came back with no training wheels on it. I remember she would hold me while I was riding. Then one time, I looked back, and my cousin was far away, and I realized— 'Wait! What!? I'm doing this myself!?' I was so geeked, and once I learned to ride, I've never wanted to stop."
Even when her friends and schoolmates were getting cars.
"That's not me," she said. "I have a way to get me where I need to go."
Hers is a decision that not everyone understands. "Yeah, so people do make fun of me for that. They'll say, 'Oh, you're riding a bike?' I'm just trying to get to where I need to go. But they see the bike and think something is off like they are looking at me odd for riding a bike. But for me, it's pretty simple, and I'm not sure what they don't get about it. A bike is how I get where I need to go. I don't listen to anybody who says otherwise."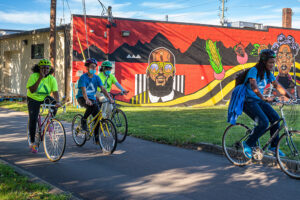 Dowell may seem a bit of a pioneer for those unfamiliar with cycling and its many mental, physical and social benefits. But biking has always made sense to her. "I remember, it was me, my mom, and my little sister. We would all go out riding bikes. We'd usually wait until it started to get dark out in the summer because my mom likes to wait till it gets cooler. We'd go riding downtown, close to the canal. I remember thinking, 'This is something I always want to be able to do.'"
"When you are riding, just listening to people around you, talking to your friends and family, and it seems like your ears finally become open. Sometimes, when you are on your bike, it brings you focus. How do I explain it? It's a hard thing to explain to people who've never felt it. Bikes bring people together."
Something else that has fostered her commitment to cycling is her employment through Groundwork Indy, a youth empowerment program on Indy's near northwest side that fosters leadership development through environmental programs. As Green Team supervisor at Groundwork, Leslie has been taught the importance of mobility justice, ecological responsibility and personal responsibility to the community.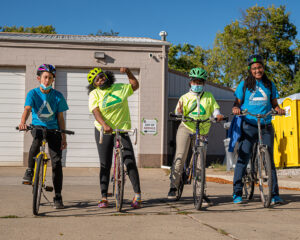 "My job there strongly influenced me to ride a bike," she said. "They are the ones who gave me the bike I'm riding now. A lot of my friends from work also got their bikes from there. So there's a bunch of us all riding bikes. So now, we'll say, 'Hey, where we all going to go after work?' Because we've all got bikes, and there's nowhere we can't go."
Story by Mark Latta, photos courtesy of Wildstyle.