Published March 3, 2022
Trailblazers: Raji Johnson
"Riding is better. It makes me move slower and notice things around me. I'm able to discover places around me. Riding keeps me in line with the world."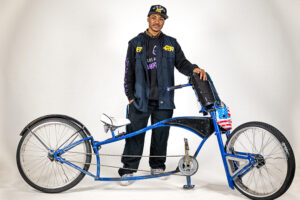 You are more likely to hear Raji Johnson approaching before you see him. His arsenal of twin outdoor speakers mounted snug to the front fork of his bike chassis is one of his three signature calling cards. When he's out riding on the canal, holding court at Monument Circle or crisscrossing the downtown trails and streets, Johnson's is slinging out beats onto the pavement and across the walls and edges of the downtown cityscape.
In addition to his monumental sound system, Johnson's bike is a mobile masterpiece, a rolling sensory avalanche. His stretched bike frame, a custom-built, single-speed cruiser, is 10 feet long. It hugs the ground with thin profile tires and pulses out a battery-powered light show, LEDs stretched across his frame and wound through his spokes pulse and flash, synched to the music.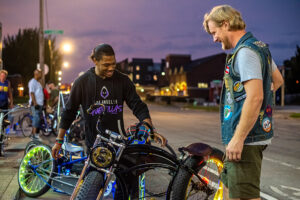 Despite the impressive flashiness of his ride, the thing that really sets Johnson apart is Johnson himself.
"Something that most people might not expect about me is that I'm mostly a calm, collected, and fun type of guy to be around," he said. "Most people actually find themselves at home when they speak to me.
"I ride every day. At first, it was just an exercise thing, but now it's about me learning the city and finding my place in it. I don't have a car, and I don't want one. Riding is better. It makes me move slower and notice things around me. I'm able to discover places around me. Riding keeps me in line with the world."
Johnson, a transplant to Indy from Florida, was accustomed to riding fat-tire beach cruisers in his home state. He brought his cruiser along with him and started slow rolling through the streets of Indy to discover his new home. Soon, he and his bike started garnering attention.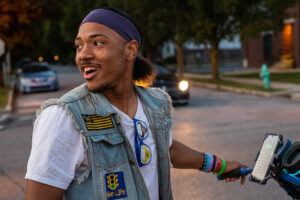 "I had my cruiser and had decked it out with lights, 'cause that's what you do with a cruiser," he said. "I had a light pack on the wheels, and when they rotated, the lights would display a picture from my phone. Then, I started playing short videos on my wheels while riding. That caught a lot of people's attention. Even the Pacer Bike Share folks. They asked me to come to work for them. They asked me that, and I thought, 'What— for real?!?'"
Many other bikers began to pay attention, and soon, Johnson was approached by the bike group Road Rage to join their ranks.
Being asked to join a bike group like Road Rage was a big deal. Road Rage is an invitation-only community. Soon, Johnson was helping organize events for Road Rage, coordinating safe routes and helping block traffic from cars when the group went riding. His personality and customized ride promptly propelled him to the reigns of leadership in the group.
His connection to a respected bike club catapulted him further into the custom bike scene. Soon, he was racing and attending events in Detroit and New Orleans, two cities known for their street bike scenes. "Bike groups are like families," he said.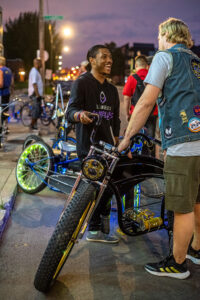 For Johnson, biking is a way to move about the city, but it is also about establishing a sense of community and family. When he isn't moving through the streets of downtown, you can often find him at Monument Circle, holding court with members of the bike group. He's often showing off his ride to strangers as they approach, answering questions about his custom stretch, offering insight into his particular brand of bike culture, and offering visitors advice.
Rides are also a family affair. His dad often comes along. "My father will often join me on my rides. He goes because he doesn't mind the ride, but I think he mostly goes because he wants to spend time with me."
Johnson often travels with his baby daughter. "I'll strap her to my front, and we'll go for a ride," he said. "The first time I took her with me, she was eight months old. She was asleep at first. But then she woke up and started bobbling to the music. She started looking around, her eyes getting wide, and this huge smile crept across her face. It was amazing.
"Now, when I come home, she'll run up to me and ask if she can go out on the bike with me. 'Daddy! Bike? Bike?' So, I'm riding even more now because I want to take her with me. We'll get on and just ride. Nowhere to go, really. We're just riding. Feeling the air move past us, being together in the moment."
Hear from Johnson in this YouTube video.
Story by Mark Latta, photos courtesy of Wildstyle.