Published September 15, 2023
Volunteer Shares her Ancestor's Story of the Underground Railroad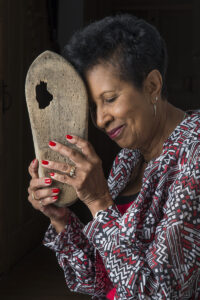 Within the incredible story being told at the Levi and Catharine Coffin State Historic Site — that of the Quaker couple whose Fountain City home became known as "the Grand Central Station of the Underground Railroad" — one volunteer is sharing her familial connection to give visitors a deeper understanding of the lives of freedom-seekers during the Civil War-era.
Eileen Baker-Wall is the great-great-granddaughter of William Bush, one of the more than 1,000 formerly enslaved people that the Coffins helped escape through the Underground Railroad. Many of their stories are included in Levi Coffin's book, "Reminiscences."
Baker-Wall has done genealogical research to learn more about her ancestor and compliment the oral histories passed down through her family. Still, some details about Bush's life remain unknown, including exactly when and how he came to Fountain City, which was known at that time as Newport.
"It was sometime between 1840 and 1850," said Baker-Wall, who has volunteered as a tour guide at the Levi and Catharine Coffin State Historic Site for more than a decade. "I know he was here by 1850 because the census said so. He had to have been a free man by that time."
During his journey to freedom, according to family history, Bush arrived in a large wooden box that was mailed to Levi Coffin in the small Indiana town located just north of Richmond.
"When Levi Coffin got him out of the box, he (Coffin) found he (Bush) had bushy hair and a bushy beard," said Baker-Wall. "And so, he (Coffin) called him William Bush."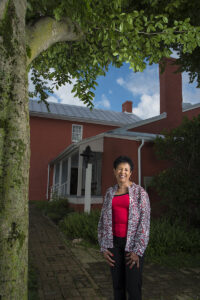 The risky and resourceful strategy was necessary to help Bush evade capture by those looking to take him back to slavery. Because while the state of Indiana prohibited slavery as well as any attempt to forcibly remove a person from the state without a hearing, bounty hunters — Coffin calls them "bloodhounds in human shape" in his book — operated openly in and around the Newport area.
Fully aware of the dangers to his life and freedom, Bush remained in Indiana and worked on the Underground Railroad with Coffin, helping freedom-seekers as they moved north. Despite his efforts, Bush is never mentioned in "Reminiscences," and Baker-Wall believes she knows why.
Coffin changed the names of the people in his book to protect their identities and especially their freedom, as anyone found to be aiding freedom-seekers faced stiff penalties, including fines and imprisonment.
Bush remained in Newport even after the Coffins relocated to Cincinnati, Ohio, in 1847. With the rights secured by the post-Civil War passage of the 13th, 14th and 15th Amendments, Bush purchased a home in the town that still stands today. Decades later, in the attic of that home, Baker-Wall's great-aunt found a well-worn pair of wooden shoes that once belonged to Bush.
Today, as visitors walk through the Levi and Catharine Coffin State Historic Site, they can see Bush's wooden shoes and hear the stories Baker-Wall proudly shares about her great-great-grandfather and his life as part of the Underground Railroad.