Published January 26, 2018
Volunteer shares stories of her ancestor at Levi and Catharine Coffin State Historic Site
By Kelsey Cook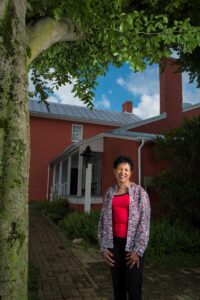 Visitors arrive to the Levi and Catharine Coffin State Historic Site expecting to learn a lot about the Underground Railroad and the important role that the Coffin home played in so many freedom seekers' journeys to freedom.
But, if they are lucky enough to visit on a day that Eileen Baker-Wall is volunteering, they will leave the site with an even better understanding for what freedom seekers went through before, during and after their time at the Coffin home.
Baker-Wall is not just an ordinary volunteer.  Her connection to the site and the town of Newport is a deep one.  It was here that her great-great-grandfather William Bush arrived on his own journey to freedom.
Bush arrived in Newport (now Fountain City) between 1840 and 1850.  According to Baker-Wall, how he came to the site remains a mystery.
"There are two or three stories about how he arrived," she said. "Wooden box shipped to Levi Coffin? On foot, from wherever enslaved, walking many miles to freedom? On a barge shipped from Memphis? … Who knows the truth because a runaway would not have disclosed much, if any, information while slavery was legal."
Unlike many others who chose to continue moving northward, Bush remained in Newport.  Baker-Wall believes that decision had a lot to do with the community.
"Evidently, those freed or escaped peoples felt fairly certain that Newport was a safe town, one where they could be harbored with little concern about being returned to slave masters or turned over to bounty hunters," she said.
Though the law allowed slavery, Newport was a predominantly Quaker community that condemned the practice.  Levi Coffin himself often spoke out publicly against slavery, and many members of the community served as lookouts when bounty hunters came to town, or they provided the Coffins with money, extra food or clothing to aid their efforts.
There is no written documentation of the relationship between Bush and the Coffins, but oral histories shared through generations shed some light on it.
Baker-Wall likes to believe they were conspirators, bonded by their commonalities and hopes to abolish slavery, who worked together to help freedom seekers north along the Underground Railroad – something she continually researches and hopes to one day confirm.
Slavery was abolished in the United States in 1865 with the passing of the 13th Amendment.  By 1874, William Bush owned his own home in Newport.  He was buried in Newport in 1892, and his home still stands today.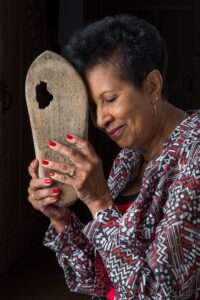 It was in the attic of his home that Baker-Wall's great-aunt Ina discovered wooden shoes belonging to Bush. A skilled blacksmith, he would likely have worn these shoes while working, and some accounts even say he may have been wearing them when he first arrived to Newport.
Baker-Wall began volunteering at the historic site in 2008.  As a retired teacher, she loves engaging with visitors – especially students.
One of her favorite memories involves a young girl who had just finished visiting the site with her classmates. She was so taken by Baker-Wall's story that before the bus pulled away to return to school, she came running down the stairs to ask for her autograph.
Giving tours is exciting for her, and she enjoys sharing the history of the site – and of her great-great-grandfather – with visitors. A proud Hoosier, she feels it is important for people to visit historical locations like this one to gain a better understanding of how the past affects today.
"If we don't take pride in our state history, then who will?" she asked.
While we may never have the full history of what happened in the Coffin home and in Newport, Baker-Wall is determined to continue her research and hopes to verify the stories about her grandfather.
Be sure to follow us on Facebook, Twitter and Instagram to discover even more about the Levi and Catharine Coffin State Historic Site.
Next month, we'll take a closer look at Culbertson Mansion State Historic Site, so be sure to watch our blog and follow us on social media throughout February for updates about that historic site.