Published June 15, 2021
Wanted: Pair of Gently Used Leather Chaps with a Story to Tell
Rarely will you hear someone say, "I would love nothing more than a pair of leather chaps from a nice gay guy." Not during a conversation in the workplace, anyway.
But in context, Katherine Gould's remark made perfect sense. She's the Indiana State Museum and Historic Sites' curator of cultural history, and one of her roles is to add LGBTQ+ items to the museum's collection.
"We want to represent all Hoosiers," she said. "Not just some."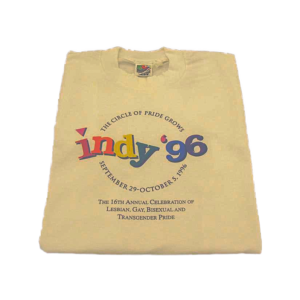 In 1996, the Indiana State Museum and Historic Sites collected its first LGBTQ+ item: a T-shirt from Indy '96, the 16th annual celebration of lesbian, gay, bisexual and transgender pride. Since then, the museum has added an eclectic mix of items representing gay life in Indiana.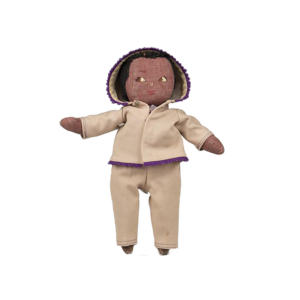 There's Squanto, the doll given to 6-year-old Bil Browning by his grandmother, Golda, in Winchester, Indiana. She told him the doll would listen to all his problems and never judge him. Browning came out as gay when he was about 17 years old. The first "person" he told was Squanto. Today, Browning is a writer and LGBT activist.
A tabletop from a lesbian bar located on Massachusetts Avenue in Indianapolis in the 1980s.
The shirt and shorts worn by Bloomington's Reuben Lidster when he and his partner, David Johnson, were married in New York City on June 8, 2012.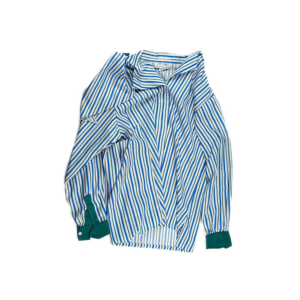 Right now, there are about 185 items in the collection, including clothes designed by famous Hoosiers Bill Blass and Halston.
Gould said that while she'd like to get items for this collection from famous Hoosiers, an important part of collecting is finding items that reflect the everyday lives of LGBTQ+ Hoosiers.
"Not everything is about marriage equality or sexuality," she said. "There's the life in the middle, right?"
Collecting is a long and often slow process, said Gould, who joined the museum and historic sites' staff in 2001. It involves reaching out and becoming more active and visible. In the case of this collection, it means going to Pride festivals, handing out business cards to make connections, asking people to spread the word.
In addition, adding staff and specializing in collecting areas "has helped us focus on more collecting areas than we have in the past."
Then there's finding the right items. Gould hasn't been able to get a rainbow flag. She could buy one, of course, but she wants something more than just a run-of-the-mill flag. "There's a difference between that and 'This is the flag I hung in my dorm room at IU in 1987,'" she said. "That's what I'm looking for – something that has that contextual meaning."
And while "we don't have enough of a collection to do an exhibit," Gould is hoping that will happen someday.
"We're still building toward that," she said. "But right now, we're collecting the stories and the objects, building the collection and making this a priority."
To see what's in the Indiana State Museum and Historic Sites' collection, visit here. To donate an item to the collection, contact Katherine Gould at [email protected].