Published January 17, 2023
What is Hygge?
NEW ALBANY, Ind. – Winter can feel long, cold, dark and depressing, and Devin Payne, site manager for the Culbertson Mansion State Historic Site, wanted to do something to brighten the mood.
She came up with a novel idea: A Galentine's Tea with The Hygge Gathering, a combination tea party/hygge (pronounced hoo-gah) experience to celebrate friendship, togetherness and intentionality. The event, from 3-6 p.m. Feb. 12, will include small sandwiches and desserts, cozy conversation by candlelight and a tour of the mansion focused on the Culbertson women. (Tickets are $50 per person; call 812.944.9600 for more information.)
Reserve your spot today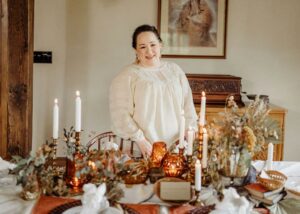 To create the event, Payne teamed with Kim Morrison, whose Louisville, Ky.-based business is called The Hygge Gathering. Hygge originates in Denmark, roughly translating in English to "cozy." It's about living in a way that's conscious of being in the moment and sharing in togetherness with others. Meaningful connection is the heart of hygge.
"It's a great way for people to do Galentine's: the cozy, the comfortable and the art of surviving the winter in a comfortable way with your best friends," Payne said. "Culbertson is so unique and so beautiful, and I thought it would be an interesting place to have one of her programs."
Morrison created her enterprise after suffering from postpartum depression following the birth of her second son. She found a book called "The Little Book of Hygge: Danish Secrets to Happy Living" by Meik Wiking. The message of a lifestyle of savoring the everyday and prioritizing togetherness deeply resonated with her.
"Hygge is popular in Denmark in part because their winter is much longer than ours," she said. "The days are a lot shorter. But the Danish people are considered some of the happiest people on earth, even though they have short days of sunlight, because of togetherness and intentionality in gathering and nurturing close relationships. Belonging to the moment and to each other is a priority."
In 2019, Morrison began hosting hygge workshops with small businesses to help create community for both the businesses and the participants. She also holds gatherings – "events with heart," she calls them – in private homes and at a coworking community she is part of in Louisville. She also offers online classes on how to hygge with families.
At the Culbertson tea, guests will cluster in groups of three or four to promote intimate, meaningful conversations. They'll be offered a guided discussion menu, if they want. And since open flame is prohibited at Culbertson, participants will sit around battery-operated tea lights.
"Candlelight is essential," Morrison said. "It helps ground and invites us to belong to the moment. By the end of the afternoon, the sun will be down, inspiring a hygge atmosphere of warmth and hearth."
The goals are togetherness and connection.
"We experience wholeness and healing in relationships," she said. "People are essential to our overall life satisfaction. I hope guests who come to Culbertson are inspired to seek more togetherness in their own lives. I hope they feel a sense of warmth, a sense of great connection. And that they feel inspired to be curious about hygge and integrating it into their lives, especially during the winter."