Published September 16, 2022
Wherein we find out how dedicated Mrs. Porter was to the craft of photography
By Shaun Payne, Site Manager
Limberlost State Historic Site
The fervor Gene Stratton-Porter applied to the medium of photography is astonishing. Her photography career culminated in four national awards, countless reproductions in magazines and books, and a visit from the Kodak company that she turned away due to the unorthodox location and manner she used to develop her photographs – which began in her downstairs bathroom and finished in turkey platters on the family's kitchen table.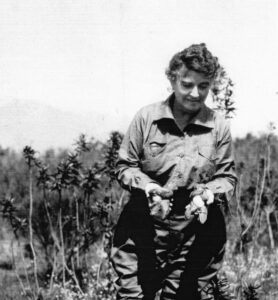 This remarkable career began inauspiciously with a small box camera given to her as a Christmas gift from her daughter Jeannette. From there, as Gene writes in her nature study "Wings," she added extensively to her collection.
"I spent over a thousand dollars in equipment," she wrote. "All of the money accumulated from nature articles and a few stories went to pay for four cameras, each adapted to a different branch of outdoor work, also a small wagonload of field paraphernalia."
While $1,000 may sound meager, the same amount of equipment purchased in 2022 would cost roughly $30,000. She wrote that she had a wagonload of hose that she could stretch over 100 feet to connect to a bulb that, when squeezed, would operate the shutter of her camera. She also used various-sized ladders as tripods.
When she began to submit nature articles to magazines, editors wrote back asking for photographs. Gene  traveled to the Limberlost Swamp to get the pictures needed for her articles, and later her nature studies, which were her true passion.
The Limberlost Swamp was not as it looks now. Gene described the swamp as hot and oppressive. Its canopy stretched for miles. At times, she had to cut the canopy back to allow light in to illuminate photographs.
As determined as she was, Gene needed help getting her equipment loaded into her carriage, unloaded, set up and prepared. Several men assisted her during her time in Geneva. She spent hours in the swamp, camouflaging herself and her equipment, to get the perfect photograph. On top of her rubber waders and woolen outerwear, which provided protection from insects, Gene wore an early version of a ghillie (camouflage) suit, called a cravenette, which was the color of leaves.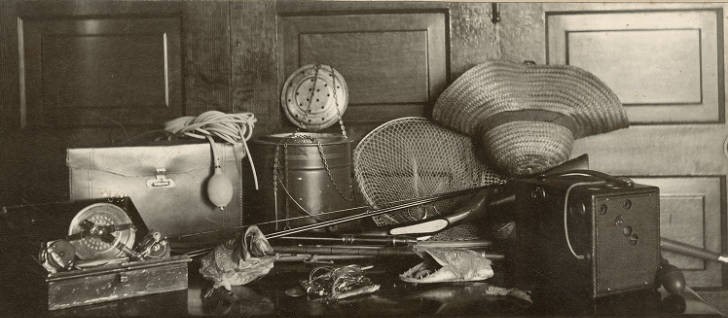 Gene often laid in the swamp waters for hours, as still as possible, so she wouldn't frighten or startle the subject of her photograph. Gene wrote on several occasions that she became quite ill, leaving her "at the very doors of death." Her husband's brother Miles, a doctor, was often called upon to help Gene. The Aug. 22, 1902, edition of the Fort Wayne Sentinel reported that Miles Porter took a special "midnight train" to Geneva to care for his critically ill sister-in-law.
Despite her near-death experiences, Gene returned to the Limberlost Swamp as soon as she was able. Her husband, Charles, had long since given up trying to stop her. It is this devotion that we see in all her works, but especially in her photography, as she went to great lengths to share her beloved Limberlost and its inhabitants with the world.