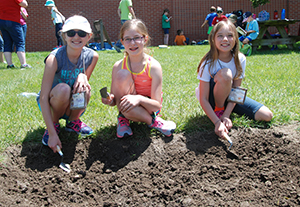 When most parents think of summer camps, they think of overnights in cabins, swimming in lakes, roasting marshmallows and other traditional camp activities. But what if during a week of camp, your child could become an archaeologist or geologist? Learn about urban hiking? Design and create their own clothes – complete with a fashion runway show to model their creations?
At the Indiana State Museum, summer camp is about more than just "camping" – it's about allowing campers to explore the interests that are as unique as they are. We know that kids aren't one-size-fits- all, and so we've created camps for every type of child.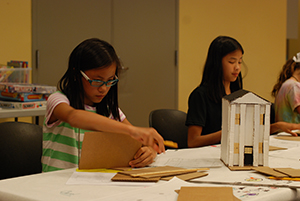 The Indiana State Museum offers more than a dozen different camps this summer. During our weeklong camps, campers get a behind-the-scenes look at the museum, along with exploring their favorite hobbies, or trying out new interests entirely.
Children ages 10-14 can learn to create their own clothes during Indiana Fashion Runway Camp, June 11-15. Or, budding architects can design their own dream city during Build It Camp that same week. Kids as young as 6 years old can learn the basics of culinary arts during our new Micro-Culinary Arts Camp, June 18-22, where they'll learn how to mix, measure and help in the kitchen safely – skills they might just use at home to help out mom and dad.
For kids with a heart for adventure, we offer outdoor camp experiences as well. Eco-Explorers Camp, July 16-20, will take campers on nature hikes where they'll see wildlife and explore the nature right in Indianapolis, as well as provide an opportunity to learn about plants and see real fossils.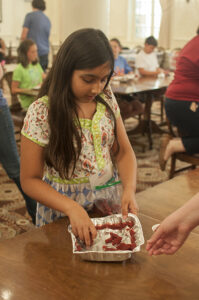 New this year, preschool-aged kids can get in on the fun, too, during special half-day camps (9am-12pm) for children ages 4 to 6. Indiana Animals Camp, July 9-13, will let little ones learn about all sorts of animals, from the fiercest predators of the Ice Age to animals that live in Indiana today. Or, they can explore art and nature during Indiana Art and Nature Camp, June 18-22, where the preschoolers will learn about different artistic forms and how to use nature as a catalyst for creation.
Full-day camps cost $210 for members/week, $235 for non-members/week. Half-day camps for preschoolers cost $105 for members/week, $117 for non-members/week. Learn more about these camps, and others, on our camp webpage.