Published April 14, 2023
WHY BOOTH SHOT LINCOLN
Tucked inside the Indiana State Museum's new exhibit "Influencing Lincoln, The Pursuit of Black Freedom," there's a panel about Lincoln being assassinated. It reads:
Lincoln's support for Black rights proved fatal
Soon after the war ended, Lincoln gave a speech that argued for Black men and veterans to have the right to vote. John Wilkes Booth was in the audience. Enraged that Lincoln supported Black citizenship, Booth vowed, "That is the last speech he will ever make." Booth shot Lincoln three days later.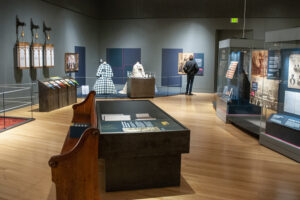 "The declaration by Booth is well known among Lincoln scholars," said Susannah Koerber, chief curator and research officer for the Indiana State Museum and Historic Sites and co-curator of the Lincoln exhibit. "But when we've talked to people about the exhibition, most are unaware there's this connection between Lincoln moving toward advocating for greater rights for Black people – including voting – and John Wilkes Booth's decision to kill him."
That's just some of the history visitors will learn from "Influencing Lincoln," now through Oct. 29.
Lincoln was shot shortly after 10 p.m. on April 14, 1865, and died the next morning at 7:22 – 158 years ago this week.
When Booth assassinated Lincoln, the Civil War was close to ending. Richmond, the Confederate capital, had fallen and Confederate Gen. Robert E. Lee had surrendered to Gen. Ulysses S. Grant at Appomattox.
Booth had been part of a conspiracy to kidnap Lincoln, Koerber said, but even when there was no hope for the Confederacy, Booth "was so against the idea of equality, he so embraced white supremacy, that he thought it was grounds for killing Lincoln."
The Confederacy had touted itself as the first nation built on the cornerstone of slavery, Koerber said.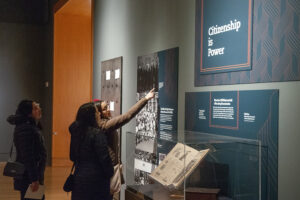 "In the Cornerstone Speech by Alexander Stephens, the vice president of the Confederacy, he lays this out very clearly," she said. "They were explicitly disavowing the Declaration of Independence's statement that all men are created equal. They said that was where the Founding Fathers made their great mistake.
"They were establishing a government on a principle of inequality. We start the exhibition with a quote from the Declaration of Independence because that statement 'all men are created equal' was very important to the people fighting for equal rights and to Lincoln. Especially in the Black community, they really looked to how to make that statement come true. The idea of Booth reacting so strongly to Lincoln saying we are going to move to equality in fact is inseparable from Booth's support for the Confederacy."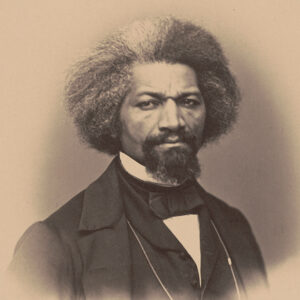 In his eulogy for Lincoln, abolitionist, orator and author Frederick Douglass said the president "was the first American president who rose above the prejudices of his time and country."
"Abraham Lincoln, while unsurpassed in his devotion to the welfare of the white race, was also in a sense hitherto without example emphatically the Black man's president, the first to show any respect for their rights as men," he said.
That eulogy is part of "Inspiring Lincoln" too.