Published September 28, 2021
You May Have Seen Steele, But You Haven't Seen These
Over the years, the Indiana State Museum and Historic Sites has acquired approximately 350 works by American Impressionist painter T.C. Steele. At any given time roughly 50-60 paintings are on display at the site in Nashville, the museum, or on loan to the Indiana Statehouse and other institutions. About 200 paintings have been restored and another 100 are in various stages of restoration.
On Wednesday, Sept. 29, 16 paintings – five of which have been newly restored and framed – will be rotated into the T.C. Steele State Historic Site display in the Large Studio. Arts and Culture Collection Manager Meredith McGovern and Senior Curator of Art and History Mark Ruschman have researched and overseen the conservation of these paintings, three of which have not been viewed since at least the mid-1980s – and possibly longer.
These five paintings and 11 more will be on view for the next three years.
The newly displayed paintings include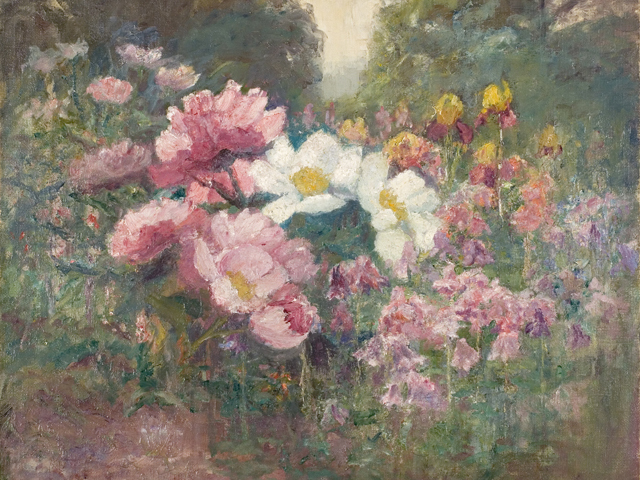 "FLOWERS"
"Flowers" is thought to be the last painting Steele worked on prior to his death in 1926. It's considered unfinished. It depicts peonies and irises from gardens created by his wife, Selma. On the back of a photo of this piece in the museum's archive, Selma wrote, "His last effort in the garden."
"FROM THE WEST PORCH, SALT CREEK VALLEY"
"From the West Porch, Salt Creek Valley" is a view of the House of the Singing Winds. This painting shows the west wing, which was added to the residence in 1908. That was T.C.'s studio in his residence until they built the Large Studio.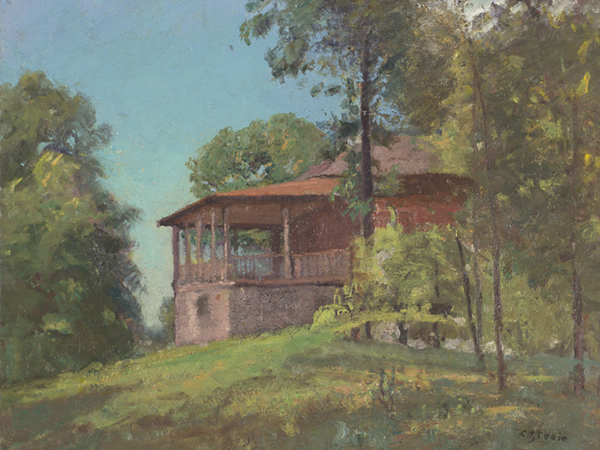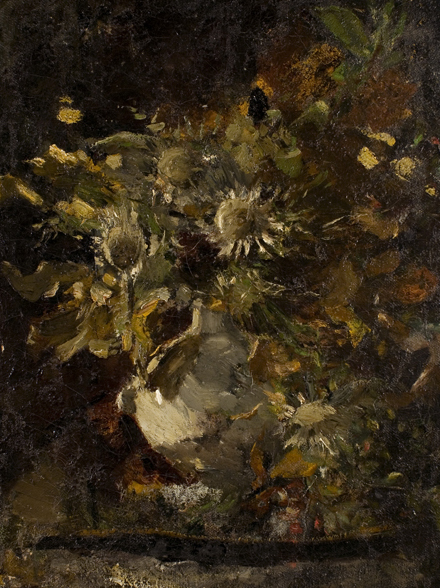 AN UNTITLED STILL LIFE
An Untitled Still Life, which is not signed or dated, depicts sunflowers in a round, white vase. In researching this piece, Meredith McGovern found a similar piece owned by Newfields. Theirs is also unsigned and undated, but they suspect it was painted between 1880 and 1885 in Munich when he was using a dark palette.
"FOREST INTERIOR"
"Forest Interior" is the title Selma gave this undated painting in her 1926 inventory. It's a summer landscape of Brown County.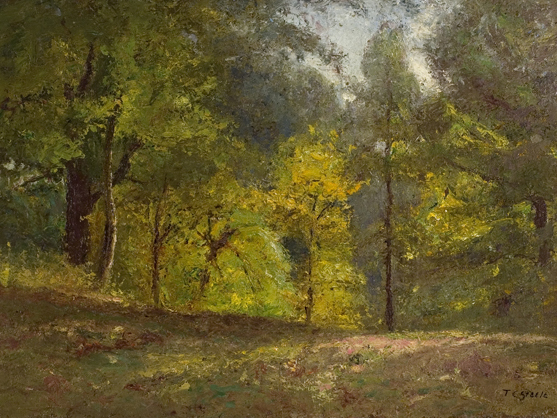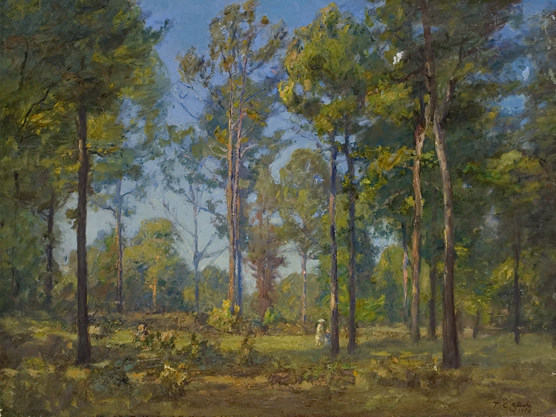 "BLUE SKY" OR "A STROLL THROUGH THE WOODS"
"Blue Sky" or "A Stroll Through the Woods," completed in 1908, has two names. In 1926, Selma titled it "Blue Sky." In 1945, the title attributed to it was "A Stroll Through the Woods." Yes, the sky is blue in the painting, but the new title tells us much more about what's happening in this painting, which features a woman dressed in a white hat and yellow dress with a white apron holding the hand of a child dressed in blue as they walk through a grove of trees.