FIX Educator Resources
The United States is in the middle of a crisis that is impacting families and communities with Indiana at the epicenter: opioid use disorder.
At the Indiana State Museum, visitors were invited to learn about this crisis and be a part of the solutions through our exhibit "FIX: Heartbreak and Hope Inside Our Opioid Crisis," open Feb. 1, 2020 through Aug. 1, 2021. This exhibit worked to reduce the stigma surrounding opioid use disorder and build empathy through art, personal stories and trustworthy information about the science behind the disorder. Students are affected by this crisis – and they can also be part of the solutions. Throughout the exhibit, students explored interactives about brain chemistry, how cravings worked and more. They experienced interactive artwork and saw photos of recovery by Pulitzer Prize winning photographer Bill Foley, taken specifically for this exhibit. Students were able to learn what they could do to make a difference in their own communities.
There is hope within this crisis. Your students can be a part of it.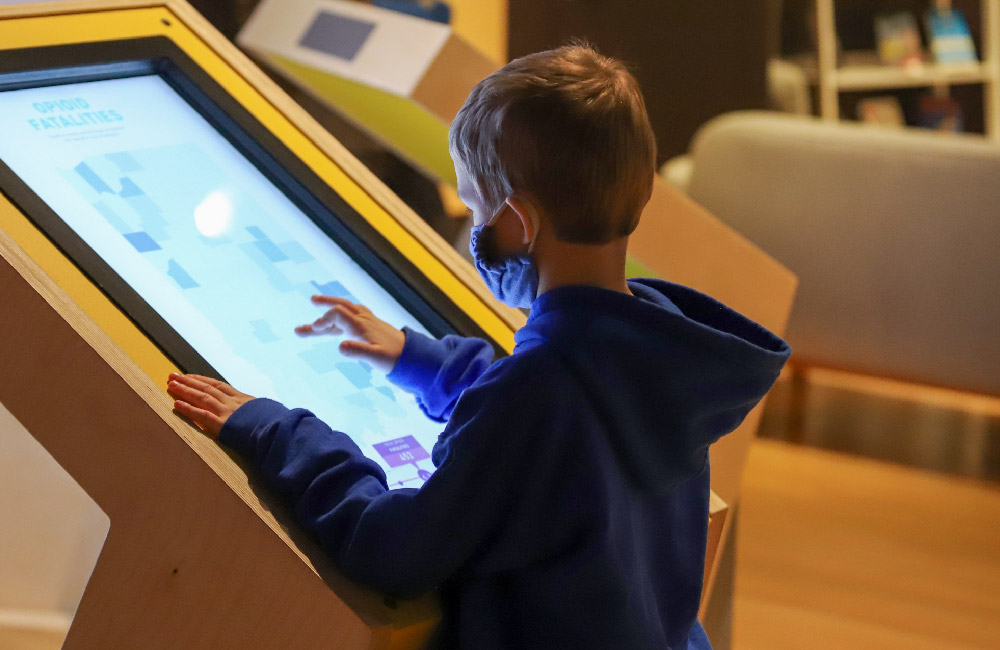 INDIANA ACADEMIC STANDARDS
The FIX exhibit and related program experiences connect with the following Indiana Academic Standards but may connect with additional classroom curriculum.
English 6-12 – RN.4, RV.4, SL.3
Biomedical Sciences – Domain 1, Domain 2
Anatomy and Physiology – Core Standard 10
Physical Education High School – Stress
Health and Wellness – Grades 6-8 – Standard 1, 2, 3, 4, 8
Health and Wellness – Grades 9-12 – Standard 1, 2, 3, 4, 8
Go beyond the exhibit
Continue important conversations with your students and hear from community organizations and experienced professionals who are helping fight our community's opioid epidemic.
You can watch these videos in the adjacent YouTube playlist or you can directly download the videos here.
Special thanks