Immerse your guests in history
We offer several ceremony locations for couples who wish to say "I Do" during the day.
Located in White River State Park, the museum offers a unique venue with incredible architecture and beautiful views. We have a variety of spaces, one of which includes our Legacy Theater.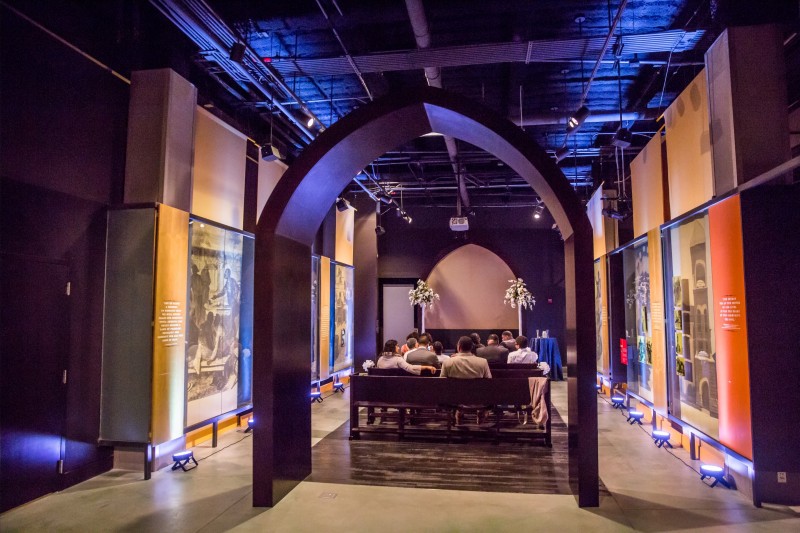 What sets us apart
WiFi ready (all spaces).
Convenient location on downtown canal.
Parking in the White River State Park garage with discount pricing
Unique experiences available for additional fees, including historical characters and special programs.
Elegant space regardless of your colors or decor.
Wedding couples receive one-year museum membership.
Many photo opportunities available in and outside of the museum.
Museum galleries can be included in your event for an additional fee.
Legacy Theater Details
Your rehearsal the day before at 3 p.m. (subject to availability).
Two rooms for preparation the day of your wedding beginning two hours prior to the start of the ceremony.
White garden chairs.
One hour for the ceremony (including seating, the ceremony & receiving lines).
Rental times for a semi-private space are 9 a.m. to 3 p.m. The museum will be open to the public.
To book your event, a 50% facility rental deposit is required along with a signed contract. A check, American Express, MasterCard or Visa are accepted forms of payment.
Your booking is confirmed upon receiving signed agreements and deposits for the Indiana State Museum.
Parking is available in the White River State Park Garage. Day of the event parking is a discounted rate if your guests pay on their own with a voucher. If you wish to cover your guests' parking, you must guarantee a number of passes and purchase ahead of time.
The ISMHS at times could be considered under structural or cosmetic construction. Structural and/or cosmetic changes to the Facility and its grounds include but are not limited to gallery closures, improvements to landscape, installation of art, etc. In the best efforts of the Facility, plans will be communicated as early as possible to the Client.
LET OUR SPACE INSPIRE YOUR OWN HISTORY.