Released February 12, 2021
Blind tour guide shares history of Levi Coffin house – and her own family
Shari Petersime needed a post-retirement activity. The year was 2014, and she'd just retired after 39 years teaching junior and senior high school special education students at Northeastern High School in Fountain City.
A friend inquired: How about becoming a volunteer tour guide at the nearby Levi and Catharine Coffin State Historic Site?
"And I laughed at her," Petersime said in a release, "because I thought, 'OK, a blind person is going to give tours?'"
At the time, Petersime, who was born with retinitis pigmentosa, a rare, inherited degenerative eye disease that causes severe vision impairment, "thought Levi Coffin was this guy who had this house and he hid a few slaves." Still, she thought she might enjoy taking visitors through one room in the Underground Railroad stop.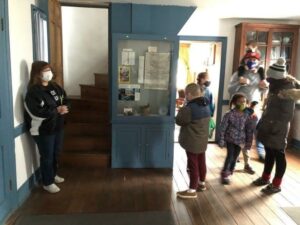 Then she started reading about the Coffins, who provided safe passage for more than 1,000 escaped slaves on their way to freedom from 1826-1847. She was fascinated.
She volunteered to give tours of the three rooms on the lower level of the house.
Soon, she felt comfortable enough to guide visitors upstairs too, to show them the hidden areas where the Coffins provided shelter.
Now, seven years later, the 70-year-old Petersime has taken thousands of people through the historic house, according to a release from the Indiana State Museum and Historic Sites.
"I enjoy telling the story," she said. "I feel like it's partly my story."
Petersime said her ancestors came from Longtown, a community founded by former slaves and free Blacks about 15 miles north of Fountain City that straddles Randolph County in Indiana and Darke County in Ohio. Some of the wagons of slaves that Levi Coffin directed into Ohio went through Longtown.
"Some of my ancestors also hid them there," she said. "Some were slaves and some were also some of the Underground Railroad operators."
Levi Coffin's 1876 book, "Reminiscences," includes a story about Petersime's third-great-grandfather, William Thompson, an Underground Railroad conductor who moved to Longtown at Coffin's suggestion. In the Coffin house is a pair of wooden shoes worn by William Bush, a runaway slave, that were donated by Petersime's great aunt.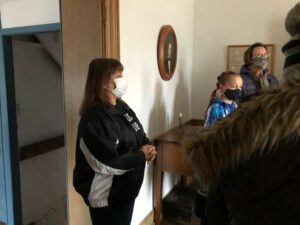 Petersime feels a great connection to the house and its history, and that comes through in her tours.
"Visitors have noted to me that they appreciate Shari connecting her own family's story to the history we speak to at the site," said Joanna Hahn, central regional director for the Indiana State Museum and Historic Sites. "That helps to personalize the experiences of those the Coffins helped and shows how there are people living today that are connected to those stories. It's great to work with individuals like Shari who are passionate in sharing this history and accommodating our visitors' questions and curiosity."
Petersime's favorite part of the tour is when she's in the dining room telling the story of the Group of 17, who showed up in two wagons and hid in the house one night in the 1840s.
"I reread that section of his book just this past year so I could get the details right," she said. "One of the things I had not been telling was that when those 17 people sat down to breakfast, Levi said to them, 'You can eat without fear because you are among friends and you are in a community of abolitionists. No fugitive has ever been recaptured in this town.' His whole purpose was to get them away, obviously, but make them feel safe.
"It truly was a leap of faith — the people who traveled on the Underground Railroad didn't know if they could trust these white people. They were able to trust Catherine and Levi."
Petersime said her vision challenges prevent her from taking guests to the basement of the Coffin house (too dark) or the barn (difficult to navigate the path). Another guide teams up with her for those parts of the tour.
But she knows the interior of the house — "There are 13 steps on both stairways" — and she knows what's in each room well enough to answer most any question a visitor might ask. She's also conversant enough to talk about the false-bottom wagon that's in the barn and vividly describe the treacherous journey that slaves endured.
She wants visitors to leave the site knowing as much of its history as possible.
"I'm a firm believer in history," she said. "You need to know where you came from. I want to get them excited about history and what happened that got us where we are today. I love the conversations you have when people have questions and you'll get into a conversation back and forth. It stretches me a little and gives them more insight or some way of looking at history that they hadn't before."