Released August 24, 2023
Hoosier Salon Returns to Indiana State Museum
INDIANAPOLIS — Showcasing the works of artists from Indiana and beyond, the Hoosier Salon art exhibition will return to the Indiana State Museum from Aug. 26 through Oct. 22.
Now in its 99th year, including 33 at the Indiana State Museum, Hoosier Salon is the state's preeminent and the longest-running juried art exhibition of works by Indiana artists.
"The Indiana State Museum is pleased to partner with Hoosier Salon to showcase artists from across the state and to be part of such a longstanding tradition," said Susannah Koerber, the museum's chief curator and research officer. "The annual exhibition provides a great opportunity for visitors to experience a wide variety of art and get a sense of the talent here in Indiana."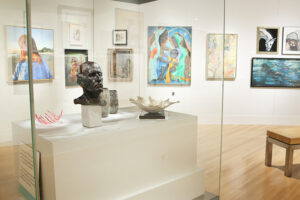 More than 230 artists applied for the 2023 art exhibition, entering more than 580 original works. Of those, 108 Hoosier artists were selected, including nine former best of show winners along with 25 first-time Hoosier Salon artists. To enter the competition, an artist must be a current Indiana resident or have previously lived in the state for at least one year.
The artworks on display in the museum's third-floor Ford Gallery feature more than 140 paintings, drawings and three-dimensional pieces representing a variety of artistic styles. All works in the exhibition are available for sale online at HoosierSalon.org.
The 2023 Hoosier Salon top award winners are:
Best of show — "Bean in the Ballroom," oil on panel, by Stephanie Spay, Noblesville;
Second place — "Bass Rocks," oil on canvas, by C.W. Mundy, Indianapolis;
Third place — "After the Ball," oil on linen panel, by Alan Larkin, South Bend;
Fourth place — "Little Miss Bubbly," oil on panel, by Brian Burt, Mason, Ohio;
Best new artists — Haven Tunin, Indianapolis; and Stephen Moss, Hammond.
Hoosier Salon was established by the Daughters of Indiana to prove Indiana artists deserved national recognition. The first exhibition was held in 1925 at Marshall Field and Company Galleries in Chicago.
"Our mission is still the same today," said Michael Quinn, Hoosier Salon board of directors' president. "We are still showing the world that Indiana artists can compete with artists anywhere, and Hoosier Art Salon is still supporting Indiana artists to help them thrive."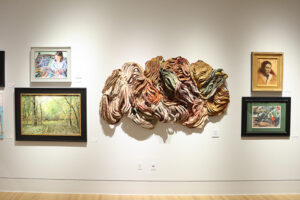 In 1942, Hoosier Salon moved to Indianapolis and in 1990 it had its first opening at the Indiana State Museum, where it has been ever since except for a stint at the Indiana Historical Society from 2005-10.
This year's award-winning artists will receive monetary awards totaling more than $55,000, with the best of show winner receiving $5,000. In addition, during last year's art exhibition, more than $37,000 was paid to artists for works sold.
The Hoosier Salon art exhibition is included with museum admission.
Additional sponsors include Allen Whitehill Clowes Charitable Foundation, Inc., Bowen Engineering Endowment, Shook Realty Group, Flanner Buchanan and the Indiana Arts Commission.
# # #
The Indiana State Museum and Historic Sites is a statewide museum system with 12 locations, offering visitors a chance to engage with Indiana's past and present and see how their actions help shape the future. At each location, visitors are invited to explore big questions and create lasting experiences that will resonate long after each visit ends. Whether interested in art or architecture, history or science, there's something for everyone and every interest. The Indianapolis museum is located in White River State Park in the heart of downtown Indianapolis. The historic sites are located statewide, stretching from Rome City in northeastern Indiana to Evansville in the southwest.
The Hoosier Salon is a statewide, nonprofit artist-service organization whose mission is to create an appreciation of visual art by promoting Indiana artists and their work. The organization has locations in Carmel and New Harmony.