Released March 5, 2020
Indiana State Museum and Historic Sites adds director to development team
INDIANAPOLIS (March 5, 2020) – The Indiana State Museum and Historic Sites has added a director of foundation and government relations to its development team.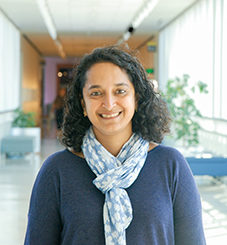 Swati Gunale joined the State Museum on Feb. 24. In her new role, she is responsible for leading the strategic management of foundation and government funding support for the museum system.
Gunale recently served as the director of grants and foundation relations for WFYI Public Media. Prior to that, she served as strategic partnerships manager for Beyond Monumental, an Indianapolis non-profit that focuses on youth health. Additionally, she spent 10 years with global publishing company John Wiley & Sons.
Gunale received her bachelor's degree in sociology from Northwestern University with a minor in Women's Studies.
# # #
The Indiana State Museum and Historic Sites is a statewide museum system with 12 locations, offering visitors a chance to engage with Indiana's past and present and see how their actions help shape the future. At each location, visitors are invited to explore big questions and create lasting experiences that will resonate long after each visit ends. Whether interested in art or architecture, history or science, there's something for everyone and every interest. The Indianapolis museum is located in White River State Park in the heart of downtown Indianapolis. The historic sites are located statewide, stretching from Rome City in northeastern Indiana to Angel Mounds in the southeast.