Released August 29, 2022
Indiana State Museum and Historic Sites Announces New Hires
INDIANAPOLIS, Ind. – The Indiana State Museum and Historic Sites has announced six new hires: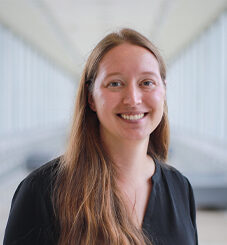 Paleobiologist Catalina Tomé (PICTURED) comes from the University of Nebraska-Lincoln, where she has been a post-doctoral research associate for the past three years. Tomé earned a Bachelor of Science in Biology from the University of California Santa Cruz, and a Master of Science in Biology and a Ph.D. in Biology from the University of New Mexico. Her research focuses on small mammals and their survival during the Cenozoic Quaternary (2.58 million years ago to today).
Curator of History Mary Figueroa was previously an archives assistant at MillerKnoll (Herman Miller Inc.) in Zeeland, Mich., and, before that, a senior museum assistant at the Wylie House Museum in Bloomington. She received a Bachelor of Arts in History and Anthropology and a dual Master of Library Science and Master of Arts in History from Indiana University-Bloomington.
Registrar Kevin Whaley joins the staff from the History Center of Olmsted County in Rochester, Minn., where he was the collections manager for almost four years. He holds a Bachelor of Arts in Chemistry and History from Wartburg College and a Master of Arts in Museum Studies from George Washington University.
Production Manager Oliver Hildebrandt had been working in Los Angeles for nearly 20 years, most recently as founder, design director and gallery director of Hildebrandt Studio, a design firm and consultancy for contemporary art galleries, experiential marketing spaces, residential interiors and sets for TV productions. He received a Bachelor of Arts in Comparative Literature and Media Studies at Indiana University-Bloomington.
Graphic Designer Chris McCoy was previously in the same position with the Indiana Historical Society, where he worked for eight years. McCoy received his Bachelor of Science in Graphic Design from the Art Institute of Indianapolis.
Robin Penny, executive assistant to president and CEO Cathy Ferree, spent 26 years at the United Way of Central Indiana, where she was logistics coordinator from 1996 to 2007 and director of executive office and board relations from 2008 to 2022. She studied computer office administration at Professional Careers Institute.