Released June 13, 2022
INDIANA STATE MUSEUM'S NEW GALLERY LETS VISITORS SEE DIFFERENT SIDES OF THE COLLECTION
INDIANAPOLIS – Indiana State Museum visitors will have a new experience when they walk in the door, an activity-filled space called Gallery One that invites them to examine objects from different viewpoints, interact with a mural, reimagine a piece of music and much, much more.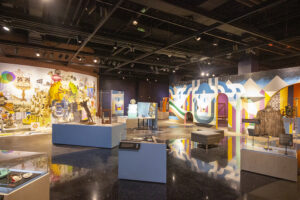 The playfully designed 5,500-square-foot gallery, which opens June 25 on the first floor of the museum, was designed "to be a great first space that you interact with that gives people the sense that their presence here is welcome and needed," said Brian Mancuso, the museum's chief officer of engagement. "This is an experience about visitors and their curiosity, rather than a specific content area of our collection. You can have experiences with objects – and there's power in that."
Gallery One is free with admission to the Indiana State Museum. Admission prices are $17 for adults, $16 for seniors, $12 for children and $5 for students with a valid Indiana college ID. Call (317) 232-1637 or visit indianamuseum.org for more information.
In Gallery One, visitors will encounter:
A reveal of the five most recent items the museum added to the collection. Learn why the curators chose these pieces to bring into the collection.
"Seed Swap," a dynamic sensory mural by artists Shamira Wilson and Danicia Monet that includes imbedded sound effects.
"136 Images from the Collection," a collage mural artist Artur Silva created that features images from the museum's collection that left an impression on him.
The work of a community curator, Kay Hawthorne, who used the museum's objects and artifacts to tell a story.
Why do people collect? See the G.I. Joe collection of Tyriee Love, the museum's director of security, and learn what the collection means to him and why he collects them.
"Meet Your Match," an interactive game that gives you a sense of which objects in the collection you might be drawn to.
Reproductions of the museum's Indiana art collection, where you experience and understand how lighting can change the way a painting looks.
A station where you create music in response to an object.
"Collection Charades," a game that invites you to act out an object while players guess what the object is.
Guess what the object is, featuring unusual items from the museum's collection.
"There are unexpected things to do," Mancuso said. "There are different activities throughout. Most of the pieces require you to do something, even if it is getting you to walk around a case and experience objects from different physical and content viewpoints. It's really all about what people are doing here, rather than what people are going to see and learn."
Gallery One replaces Birth of the Earth, which had been the first experience visitors had in the museum since the Indiana State Museum moved to White River State Park in 2002. The focus of Gallery One is to welcome visitors to the museum experience, while Birth of the Earth started the journey in a place and time.
"Research tells us that the number one reason people visit a museum is to have an enjoyable time with a social group, and the second reason is to learn something new," said Cathy Ferree, president and CEO of the Indiana State Museum and Historic Sites. "Gallery One will give our visitors a great experience where they can have fun together and learn, and it should spark some good conversations."
# # #
The Indiana State Museum and Historic Sites is a statewide museum system with 12 locations, offering visitors a chance to engage with Indiana's past and present and see how their actions help shape the future. At each location, visitors are invited to explore big questions and create lasting experiences that will resonate long after each visit ends. Whether interested in art or architecture, history or science, there's something for everyone and every interest. The Indianapolis museum is located in White River State Park in the heart of downtown Indianapolis. The historic sites are located statewide, stretching from Rome City in northeastern Indiana to Evansville in the southwest.