Released March 29, 2021
T.C. Steele unveils new sculpture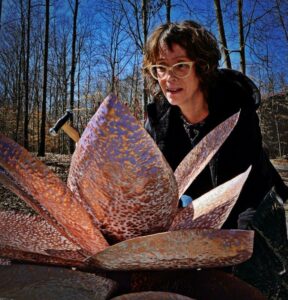 The T.C. Steele State Historic Site will unveil a new sculpture by Brown County metalsmith and jewelry maker Amy Greely – the first piece of contemporary art by a local artist to have a home at the site – on Saturday, April 17, at 1:30 p.m. as part of the Arts of the Earth Day program.
A short ceremony will take place, and Greely will be in attendance to talk with visitors and answer questions about the sculpture. The Arts of the Earth Day program, happening from 11 a.m. to 4 p.m., is included in the price of site admission.
Greely was the T.C. Steele site's artist in residence in June 2019, a residency supported by an Arts in the Parks and Historic Sites grant from the Indiana Arts Commission. In her 2019 grant proposal, Greeley said she would spend the month of June at the site, offering workshops during the day in the new Singing Winds Visitor Center, which opened in June 2019, and creating a sculpture based on the gardens at the site.
She worked on the sculpture – a lily pad – into the fall, with plans to unveil it in April 2020. That didn't happen due to the COVID-19 shutdown.
"This is a sculpture that's been waiting for its moment to go into the earth here by the Visitor Center," said Cate Whetzel, program developer for the historic site.
Greely's Water Lily sculpture, which Greely has nicknamed "Audrey" after the plant in "Little Shop of Horrors," is made of metal. Its lotus petals are a faint pink, its lily pad green. Its dimensions are roughly 22 inches wide by 30 inches tall, with the lily pad about 28 inches in diameter.
On Arts of the Earth Day, visitors will also see artists at work all over the historic site, creating their own pieces. There will be guided hikes and an arts and crafts make-and-take for children.