Published October 25, 2022
After Major Taylor Closes, the Pit Crew Gets to Work
The exhibit "Major Taylor: Fastest Cyclist in the World" closed on Sunday, Oct. 23. At 8:30 the next morning, a bicycle from the late 1800s and dress from that era, both of which had been on display, were being rolled down the hallway to the Indiana State Museum's Conservation Lab.
Soon, artwork was removed from the walls. Barriers for the test track, where kids could build a bike and ride it, were gone. Video screens were disconnected.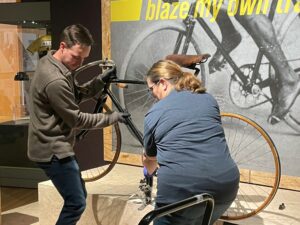 The museum equivalent of a pit crew was working at Major Taylor-like speed to deinstall the exhibit and prepare the room for what's next – Celebration Crossing and the Snowfall Express train.
And by the end of the Oct. 24 workday, the 7,000-square-foot exhibit space was mostly empty.
"It is a little tough because you spend so much time getting these materials prepped and then they're only out for a matter of months," Conservation Lab Manager Meghan Smith said. "But it's been a good run."
Thousands of people visited the Major Taylor exhibit during its 7½-month run to learn about the cyclist originally from Indianapolis who overcame prejudice to become a world champion who was more popular overseas than at home. They saw his bicycle on loan from, and soon to be returned to, the U.S. Bicycling Hall of Fame in Davis, Calif. They heard from current Indianapolis residents about bicycling in the city, and from current cycling champions about Taylor's influence. They learned about Taylor's training regimen and had a chance to try to beat his quarter-mile speed record of 25.4 seconds. (Good luck with that.)
But now, all that was gone – or about to go.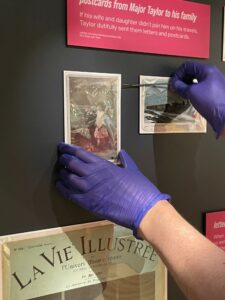 Smith had her hands covered in purple nitrile gloves to keep oil from her fingers from getting on the objects. She was reaching inside a display case, using a tool called a spatula to remove postcards that Major Taylor had sent to his wife and daughter while he was overseas.
She said about 100 items from the Indiana State Museum's collection of Major Taylor artifacts that had been on display since March 5 will be returned to the Conservation Lab. There, each item will be examined and a condition report filled out.
Staff will look for changes that might have occurred – like fading from too much light – while the item was on display.
"We expect a little bit of change, but nothing dramatic," Smith said. "And if there is something dramatic, maybe we revisit the object or revisit the way we've been putting it on display. Items typically don't change. But we often refer to them over time, so if they go out multiple times over the span of, say, 20 years, we can look and see what the change has been."
The items that go back into storage may not see the light of day for decades. Some of it has never been displayed, and a couple of objects – a biography of Major Taylor borrowed from the U.S. Bicycling Hall of Fame, which had a detached spine, and one of his scrapbooks – were specifically conserved to be in this exhibit.
"Major Taylor: Fastest Cyclist in the World" took more than two years to plan and was on display for the better part of a year. The museum staff has lived with this exhibit for three years. But while there might be a time to feel sentimental, this wasn't the time.
"At this stage of the game, it's very much physical – we need to remove things from the gallery," Smith said. "What I'm dealing with is: How do I physically interact with this object to keep it safe and move it in a timely fashion? There's a little bit of poignancy that we're putting things away and they're out of the public eye for a long time. We get really familiar with the process of moving objects in and out, and we have to remind ourselves sometimes how special these objects are."