Published August 30, 2022
How He Made That Mural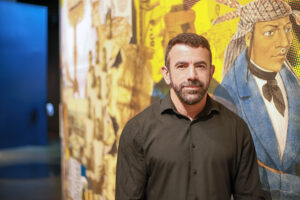 Artur Silva's mural titled "136 Images from the Collection," in the Indiana State Museum's new Gallery One, is brimming with so many ideas and images that it includes a section visitors can walk on.
"People think of works of art as precious, as something that we need to preserve at a great cost," said Silva, 46, whose work features photographs and digital images of items from the museum's collection. "I look at art in a slightly different way. Art should be interacted with."
He goes on: "My art is made for humans and I want to create opportunities for human connection, through materiality and ideas, three-dimensional ideas and spaces. Bringing it to the floor, it extends that invitation to the viewer to participate in a different way."
Gallery One, which opened June 25 on the first floor of the museum, was designed to transform the visitor experience – to let them examine objects from different points of view, remix a piece of music, change the colors of artworks and, yes, step on a mural.

Silva's 11-foot-high by 23-foot-long mural is sections of adhesive vinyl that hangs on a brick wall in the gallery and extends as much as 4½ feet onto the floor. He assembled the images on a computer and used an inkjet, wide-format printer to create the final version.
The process to create the mural started last year when the museum hired him and intensified toward the end of the year and the beginning of 2022 when he began to search the collection to find the things that interested him and think about how those items related to the people of Indiana. He worked with curators to understand the process of how and why objects are preserved and collected, and to find the best images.
"Artists like myself are good at picking out patterns in the world," he said. "I was looking at different quilts and their patterns and mixing them with other artifacts, like Michael Jackson's jacket or Major Taylor's photos and other things. In the end, it's about making all of these images work as one piece."
Silva (whose first name is pronounced AR-tour) grew up in Brazil, fascinated by his parents' copy of the Encyclopedia Britannica's Encyclopedia of Art. He started creating art at age 16.
He moved to New York City at 21 but left in 2003 to move to Indianapolis. He stayed in Indianapolis for 12 years, went to graduate school at California Institute of the Arts and is now a visiting assistant professor at Indiana University-South Bend.
Silva said most of his art is videos and installations. "My work connects with people, connects with how we live, connects with real issues of the world. I see art as a way to articulate the world around us, but hopefully to engage someone. That's the goal."
His hope for the mural is that people will see how they are connected to the museum's collection. And if the portions on the floor gets dirty or messy, "we'll replace them," he said. "It's not a big deal."