Published January 25, 2022
In Her Own Words: Beatriz Vasquez
Beatriz Vasquez is the creator of the papel picado (cut paper) work "Mother Nature All Dressed Up," now part of the Indiana State Museum and Historic Sites' collection. Find her work here and in "Collecting Indiana: Recent Art Acquisitions" at the museum, Feb. 5-July 17.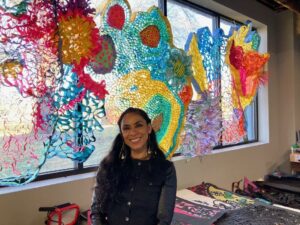 I am a paper-cut artist and a wearable-art creator. Everything I do has to do with paper. Paper is a metaphor for me. I connect it with the vulnerable community that I come from.
I was born on the Rio Grande – as we call it, el Rio Bravo – on the Gulf of Mexico.
My family has lived in Indiana since the mid-1950s. I believe that my grandfather on my dad's side came to Indianapolis seeking a better economic way of life.
My grandfather brought my dad and his brothers to Indianapolis. Our Vasquez history fluctuates because we did not just migrate and stay here. We were constantly returning to Mexico and back to the border where we're from – Matamoros, Tamaulipas, Mexico and Brownsville, Texas.
I was in Indianapolis one year as a girl and returned at the age of 21. I immediately started going to IUPUI and graduated from Herron School of Art and Design in 2006, but I'm a self-taught paper-cut artist.
After graduation, I found myself stuck in between two worlds. I'm from America and from Mexico. As a creative person, I needed to find a connection to Mexican culture and identity. So I created a self-made artist residency with my family from Matamoros, who introduced me to artisans they knew who were creating all kinds of traditional Mexican crafts. One of them was papel picado (cut paper).
I discovered how they made papel picado in the traditional form, by using hammers, chisels and nails. I tried doing it that way, but it was difficult, so I began teaching myself how to cut paper with a utility knife.
Learning to cut paper became an obsession.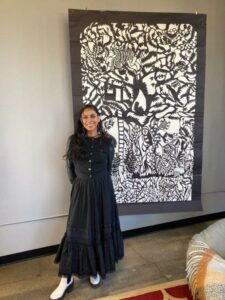 When I returned to Indianapolis, I immersed myself with paper. I began to teach myself about negative and positive spaces. The negative spaces are the pieces I cut out; the positive space is what stays behind. That's the actual design.
I found an audience almost immediately. It felt like Indianapolis and Indiana were thirsty for Latin-American culture. I know that going to school here, the lack of representation was real. There was no mentorship either.  So I took it upon myself to find an artform to alleviate my longing for Mexican culture in Indiana.
The connectivity of cutting paper was significant as well because I never had connection here with Mexican culture – and I still sort of don't. The connectivity of culture and community became super-important to me.
All my pieces are acts of resistance. I have learned to understand the reasons I create and the way I create are literal acts of resistance against the Eurocentric ideas of fine art. That has always been key in my work.
Papercutting is considered a "craft." It was never considered a fine art before. That is why papercutting is my core medium, an act of resistance.
The piece at the Indiana State Museum, "Mother Nature All Dressed Up," is a 6-foot-by-8-foot papercut layered with colorful tissue paper to maintain the traditional medium used in traditional papel picado. It is my effort to bring Latino, Latina and Latinx communities to the forefront.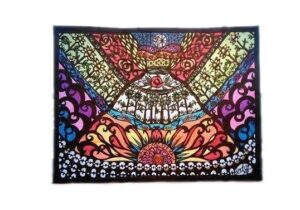 Latinas have been excluded from everything in the Midwest, and we still are. "Mother Nature All Dressed Up" depicts a Mexican dress embroidered with all these beautiful scenes of the natural world. The dress within the fabric of the design became about giving visibility to the invisible communities that have lived in Indiana for many years. I wanted to merge both social justice disparities with the beauty of the four seasons of Indiana.
I hope you can see all of that – the fabric of Mother Nature and my call to social justice for underrepresented Latina, Latino and Latinx communities – within my work.
It is extremely important for me as a woman of color to be elevated in a space like the Indiana State Museum – a space I never thought I could be part of. But now it is possible that somebody like me can be part of that establishment and be elevated to that level of visibility. It means honoring my family – the Vasquez family and all those that came before me – so that I could create resistance and awareness as a Mexican American woman and artist.