Published February 1, 2022
In Her Own Words: Lisa Pelo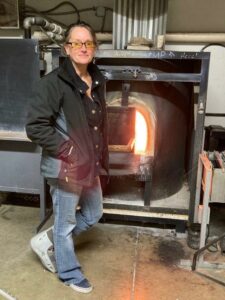 I grew up in eastern Ohio, in a town called Lordstown and always took art classes, always loved art classes. We had a well-funded tax base in my town for arts.
I went to college for creative writing – starting at Youngstown State University and then transferring to Bowling Green State University (Ohio). I was almost through my writing degree and needed some credit hours, so I decided to take glass blowing. Glass blowing is big in Ohio. It's in every university, and there's a lot of satellite studios and shops.
I loved my glass blowing so much that I stayed two more years to get my BFA with a specialty in glass. Once I graduated, I moved to Indianapolis.
There weren't many glass studios here so when the Indianapolis Art Center opened their glass studio in Broad Ripple, I introduced myself to Ed Francis, who built the studio, and said, "I'm a glass blower. Can I come in?" And he said, "Sure."
I worked there almost 14 years. Ed had been a fabulous mentor and is a great friend. When he took a job out of town, I was able to take over as department head and learn more about running a glass studio. But I always knew I wanted my own studio.
I have that studio now, in Clayton, Ind., and have been running hot here for about 14 years!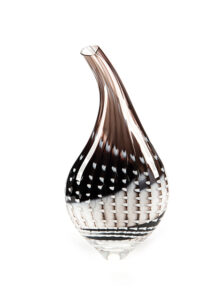 I love glass blowing because you have to figure out what the glass in motion is willing and wants to do – and how to tell it what to do. I like the notion of working with the colors, interpreting color theory and adding it into the blowing portion, which makes forms much more tricky to create. The more complex your color application, the more difficult the forms are to make. This is what keeps me intrigued.
I never wanted to be a production artist. I don't want to come home from a weekend of selling, make five bins of things, put them in a truck and go somewhere to sell them. I opted for education and training, and that's the income that sustains me. I am an instructor of my craft. That teaches appreciation of my art.
I make glass items that are quick and efficient to create; every single thing I make is a one-off. These are in gift shops around the state.
I have a mobile unit with a furnace and accessory equipment. Many Indiana venues hire me to set up in their parking lot or go to a school or a festival to be part of a two- or three-day curriculum/ demonstration or interact with their communities in hands-on sessions.
The awareness of what glass is as a medium has definitely increased over time and it's great to see the growth, the popularity and appreciation of glass blowing here in Indiana.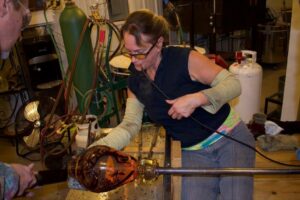 Dale Chihuly has made every glass artist's business better by being out there and promoting glass and selling glass at top dollar and putting his creations in so many venues, from The Children's Museum of Indianapolis to botanical gardens to installations all over the world. He has elevated the art and has educated the buying public.
The awareness of people who first purchased little items of mine and those who eventually commissioned my work has increased substantially through the years.
My piece in the museum, "Reality Is Not in Black and White," incorporates a number of styles and multiple color applications. Most of the color applications I use in my work are more painterly and more interworked with each other where they wash out more like watercolors do. I like working with transparent color the most because of how the light bounces in and out of it, the visual effect through bubbles and the motion of the color. This piece was about the form and the contrast of the opaque colors. A statement.
I'll never get to attempt all the styles and techniques I would like in blowing glass. I will never master all my goals. It's endless learning, endless building skills.
Having this piece in the museum's permanent collection is thrilling. I don't push my glass artistry beyond the borders of Indiana often due to so many business and personal responsibilities, so it is an honor to get my glass artwork into the Indiana State Museum. It's extremely fulfilling being in a number of Indiana glass collectors' homes and businesses, the Art Museum of Greater Lafayette and the Swope in Terre Haute, but being in the Indiana State Museum is the tops!