Published January 18, 2022
In His Own Words: Artist Derrick Carter
Derrick Carter is the creator of "Show & Tell," a mixed-media artwork now part of the Indiana State Museum and Historic Sites' collection. Find his work online here and in "Collecting Indiana: Recent Art Acquisitions" at the Indiana State Museum Feb. 5-July 17.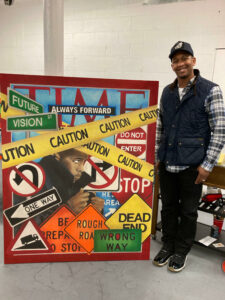 I'm hard-headed. When I believe something will work – even if it seems like it's unbelievable – I push myself to make it believable.
I am a visual contemporary artist specializing in mixed-media painting. I use sand and acrylics to communicate my beliefs and understanding of life's contrast between the world and myself.
Sand has become my primary medium. Being able to use a substance as simple as sand in the place of more traditional mediums helps to distinguish my work from other artists.
I paint first, then sand, then add glue on top, put a varnish over the top and then I do another layer. It's a lot of work, but I've been doing it for so long now that I can do it quicker.
I was told by a lot of people that working with sand, I wasn't going to be a professional artist. "Long-term, nobody is going to collect your work." But whatever you put your mind to, you can do.
The High Museum of Art in Atlanta [Georgia] is where I got a lot of my understanding about what I do. They have art by a guy who paints in chocolate. I went there and they had a picture made of army men. This is the reason I continue to do what I do – because other people have made it. They're not doing what I'm doing – they're not using sand – but what they're doing is not traditional. It's not paint.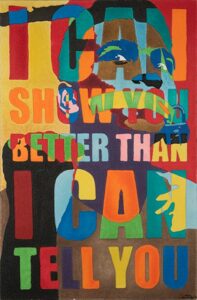 Graphic design taught me some things about fine art. I studied graphic design at the Art Institute of Indianapolis and got my degree there.
I have a lot of type in my work because I don't like to feel like graphic design was a waste of time. I put a lot of the design principles I learned in my art.
There are a plethora of different styles that I like. What I did was merge a couple. I love shapes. I love cubism. I love abstraction and I love realism. I love hyperrealism. When you can make a picture look so hyper-realistic, I love that.
To create my style, I mixed the three into one piece. You can look at a lot of my pieces and you can see different shapes. You can see some abstraction in it. But you can also visually see the image that I'm trying to portray as well – which gives it a little bit of realism.
"Show & Tell" was me telling people exactly who I am. They said Muhammad Ali was always talking, and they wanted him to shut up. So, when he put the tape over his face with the lock, I said, "That's me. That's something I would probably do." I've had a lot of people ask me, "What do you do?" I say, "I paint with sand." "How do you do that?" I tell people, "I can show you better than I can tell you."
Just to be in the Indiana State Museum – that is so significant for me. At that time, I didn't feel like an artist who was good enough to have museum-quality work yet.
This means the world to me, being an artist of African American heritage, being from Indianapolis and being seen by so many people. It shows that whatever you put your mind to, you can do.