Published February 3, 2023
Land Lovers
In creating the new exhibit "Inspired by the Dunes: Paintings by Frank V. Dudley," the Indiana State Museum's staff also wanted to showcase a contemporary artist's impressions of the nation's 61st national park whose work could hang alongside Dudley's.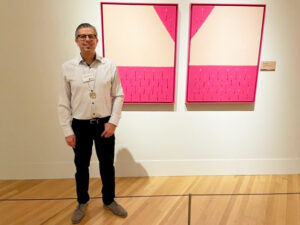 They turned to Jason Wesaw, a mixed-media artist from southern Michigan who's a member of the Pokagon Band of the Potawatomi Nation.
"We wanted to surround Jason's work with the Dudley paintings so it became part of the conversation and people could compare and contrast and get a new perspective," said Mark Ruschman, senior curator of fine arts and culture for the Indiana State Museum and Historic Sites. "They're both artists, 100 years-plus apart, but even today, artists are being inspired by the Dunes, just like Dudley was in the early 1900s."
Wesaw thought the idea was fascinating.
"I was not familiar with Frank Dudley, but certainly familiar with the Dunes area because I have strong tribal and familial ties to the land there," he said. "So their idea about juxtaposing Dudley's impressionism paintings with my more contemporary works of art and being a native artist was very interesting to them – and to me."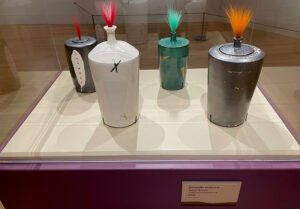 Wesaw created six pieces for the exhibit. Four, in a display case, are a series of ceramic vessels that he said represent "the spirit that lies within anything – could be a river, could be the forest, the spirit of the dunes, the spirit of animals and human beings alike."
The others hang on the wall. "Water Blanket" is a mixed-media wall textile that uses clay harvested from Lake Michigan and copper to ornament the blanket. The textile piece is hand-dyed and hand-sewn using natural dyes collected from the forest areas of the Dunes.
"What it's signifying is our physical bodies, the land itself and our spiritual selves, or the great beyond of what happens when we pass away from this world," he said. "That's what's tied up here in this water blanket. It's a piece about water and spirit."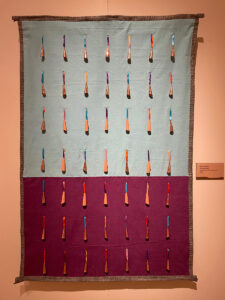 Next to that is "Neon Sunrise," which depicts the beauty of the sun coming up – an important time for ceremonies in traditional Native American culture.
"People nowadays are so easily attracted to bright lights or distracted by things like our phones or technology," he said. "It's hard to get people to sit and be contemplative or meditative. The land can really do that. What if we could encapsulate our ceremonies in a neon sign to get people attracted to them and participate in them?"
Wesaw said he gets a lot of inspiration from the land. He's always lived close to Lake Michigan and spends a lot of time there, inspiring by the color and vibrancy of the natural world.
"One of the reasons color plays such an important role in my work is that I feel like the history of my tribal community and our interactions and the growth and development of this country is still, to this day, often perceived in black and white," Wesaw said.
"People, when they have ideas about us, they're often thinking in the past. I want people to consider who we are now and then who we are collectively in the future. We're living and breathing and creating work right now. I want people to know that."
And while Wesaw's and Dudley's work are nothing alike, both showcase the importance of the Dunes.
"For me, it has personal ties," he said, "but I think anyone who goes to visit that area can feel the power and the beauty in that land."