Published February 22, 2022
Rahsaan Bahati: What Major Taylor Means to Me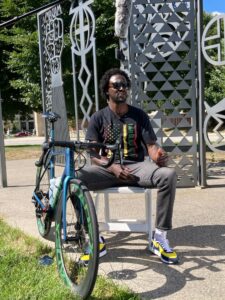 It's hard to say which of Major Taylor's cycling feats is the most extraordinary. Maybe that he won his first road race at age 13. Or the time he rode one mile on a trainer in 43 seconds – a speed of roughly 82 miles per hour. Or that he won 18 of his 24 races in France in 1901, including a world championship sprint title.
Ninety years after he retired from racing and more than 100 since he astounded the world with his cycling excellence, Marshall "Major" Taylor's stories still inspire champions and casual cyclists alike.
As part of the Indiana State Museum's new exhibit "Mayor Taylor: Fastest Cyclist in the World" (opening March 5), we spoke with contemporary greats about what Taylor's story has meant to them. Here's what Indiana University-Bloomington alumnus and 10-time U.S. champion Rahsaan Bahati had to say.
Q: When did you hear Major Taylor's story and how did it influence you?
Bahati: I first heard about Major Taylor when I was about 15 years old. I joined a local club in L.A. that has a club called Major Motion and they were honoring his legacy. I didn't really pay attention. But then you start being around the older club members and learn about him. I really learned about him when I read one of his books. It was 1999 when I read it. It was my first year going to the world championships, and it was so funny because he won a world title in 1899. So I was like, "All right, it's destined to be. One hundred years later, I'm winning my first world championship." I didn't win, but it was such an inspiration for me.
Q: What do you think his legacy is, and why do you think it's been ignored – or maybe forgotten for the last 100 years?
Bahati: The reason it's forgotten is because cycling is kind of forgotten in the United States. I tell people all the time about Madison Square Garden and it blows them away that it was built for cycling and was the mecca of cycling. But cycling left the mainstream. If it was still in the mainstream, people would know his story. It's not too late.
Q: Have you had Major Taylor-like experiences?
Bahati: Oh, yeah. The first one I remember like it was yesterday. I was 16 years old, doing a group ride in L.A. At that time, I was really good. I didn't even know I was that good. I was just doing my thing. If another rider took off, I would chase him. If another guy took off, I would chase him. I didn't know what I was doing. There was one point where I guess one guy was so upset I was better than him that he told me, "No one wants your Black ass here." I didn't know how to react. Luckily, one of my friends was there, an older Black man, and he took care of it for me. I've been in races where I've had racers say the same thing. And this is within the last 10 years. The older I've gotten, the more I am a little reactive to that stuff. I don't let it fall by the wayside like I used to. I don't want to be confrontational. It's just that I want to engage them and try to educate them. You're prejudging me before you even know me. And I think once you get to know me, maybe you would change not only how you look at me, but people who look like me.
Q: You're a California guy, but you went to Indiana University. How did that happen?
Bahati: It was crazy how that happened, actually. I was a year removed from high school and I was racing full time in Belgium with the U.S. National Team. I got an email from my dad. He said, "You got this offer to go to school in Indiana." I was like, "Indiana? I don't want to go there." But it was such an attractive offer. With the Major Taylor project going on through a guy named Courtney Bishop, and the push for telecommunications – and having people of color join the program – it was like my two worlds had collided. Also, I had studied telecommunications at my high school.
Q: How did IU know about you?
Bahati: Through bike racing. I had been on two professional teams already and sort of made a name for myself in the United States. I really wanted to pursue cycling, but I also understood that education was important. It was one of the toughest moments of my life because I went to the national team coach and told him about this opportunity. I wanted to go back to the States, meet my professors, let them know that I'm going to be representing the United States in the world championships, get my books and come back to Belgium. He said, "If you leave, don't come back." That's the cycling culture. You're 100 percent in. There's no 90 percent in. I made the decision to leave. And in 1998, the Junior Nationals were at the Major Taylor Velodrome in Indianapolis. So that was my first time in Indiana; I was a junior in high school. A few years later, I found myself back here, actually going to school. So that was surreal.
Q: What was your IU experience like?
Bahati: Amazing. My college mentor and good friend Tim Stockton was the first person to teach me about finances and get me a credit card. I met George Taliaferro, who was the first drafted African American player in the NFL. We became friends. But I also had some tough times. I was pretty jaded to the fact that Indiana – and specifically the university – was pretty racist at that time. And maybe still is, I don't know. But I didn't let that define my experience there. We had some unfortunate situations with the Major Taylor Little 500 team and other teams going against us. I got my tire slashed on my car. But at the end of the day, I have really good friends who are white who came from Indiana.
A video of this interview is part of "Major Taylor: Fastest Cyclist in the World," which runs through Oct. 23 at the Indiana State Museum.