Published September 24, 2019
Teaching the littlest Hoosiers at the Indiana State Museum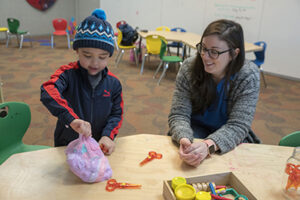 Hayley Whitehead, early childhood program manager at the Indiana State Museum, didn't know she'd end up as an early childhood instructor. In college, she studied history and museum studies, including a master's degree in both subjects.
Hayley's mother was an early childhood instructor, and so Hayley grew up around that type of work. After her time in school, she started volunteering at an early childhood education center and that led to teaching pre-k.
Hayley fell in love with teaching, and she began pursuing work in museums, including at The Children's Museum of Indianapolis.
Now, she oversees all early childhood programming at the Indiana State Museum, and she brings her own philosophies into her work. Specifically, the Reggio Emilia Inspired Approach.
Reggio Emilia is an educational philosophy that is child-centric, with an emphasis on experiential learning and using the environment or nature to help teach children.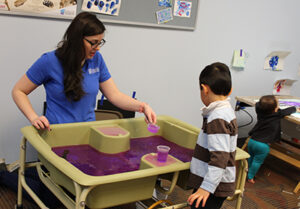 "You're not going to see bright colors and cut outs in a Reggio classroom," Hayley said. "You're going to see muted colors and the art from the children on the walls. The room is seen as the third teacher – it should promote creativity and critical thinking and reflect the kids."
Hayley was drawn to this type of approach because of the emphasis it puts on the kids' own personalities and styles.
"Through this philosophy, you see children as capable," Hayley said. "That's missing from a lot of curriculums."
Hayley looks forward to working with the kids every month, and she works hard to foster their individuality and natural curiosity. She said under her Reggio Emilia philosophy, if she's teaching the kids to do something a certain way and a child comes up with another method, she doesn't correct them – she encourages it.
"They're constantly teaching me," Hayley said. "There are so many things that I plan, and they just do it a totally different way – usually more creative and thoughtful!"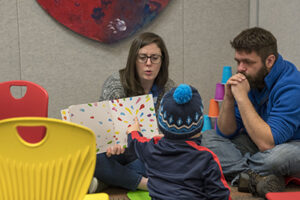 At the museum, Hayley runs several programs for different ages, including Small Wonders (ages 3-5), Young Explorers (ages 4-6), Messy Mondays (ages 2-5) and a new program, Toddler Time (ages 18-36 months).
Hayley created the Toddler Time program because parents were asking her if she could provide something for younger children – a group often left out from museum offerings.
She said she's proud to be able to fill that gap, and she's excited to continue to grow all of her programs in the coming year.
"We're a museum for all Hoosiers, and they're little Hoosiers too," she said. "It's nice to come into a museum and hear giggles and laughs."
Sign your child up for one of Miss Hayley's classes! You can learn more about all of her programs on our Early Childhood webpage.