Published December 20, 2021
The Ayres Tea Room: It's a Family Affair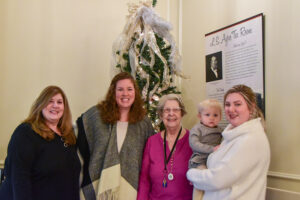 When Tracey Hensel was a little girl, her grandmother used to take her downtown on a city bus to go shopping and have lunch at the L.S. Ayres Tea Room. Now that she has a granddaughter, Hensel wanted to continue the tradition.
And so, on Dec. 17, Hensel, 58, was at the L.S. Ayres Tea Room™ in the Indiana State Museum with her granddaughter, 2-year-old Ellie; her daughter, Katie, 31; her daughter-in-law, Kimberly, 40 (Ellie's mom); and her mother, 87-year-old Minnie Traugott.
Four generations enjoying family time over a lunch that included (of course) chicken velvet soup; five generations overall. The location may have changed – from 1 W. Washington St., inside the department store, to 650 W. Washington St., inside the state museum – but the Tea Room remains a must-visit for so many Indianapolis families.
"I just remember having a fun time with my grandmother going to do fancy things," Tracey said. "We'd get dressed up, go downtown, I had a couple dollars. I'd buy gifts for everybody, and we'd go and eat. I thought that would be something nice to share with everybody."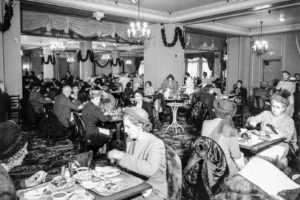 The original Tea Room opened in 1905 on the 5th floor of the L.S. Ayres store at Washington and Meridian streets and moved to the 8th floor in 1929. For 85 years, it was the place to take children (dressed in their best, including hats and gloves) to learn proper manners, for families to gather in celebration of special events, and for women to see the current fashions as shown in "That Ayres Look" style shows.
The May Company closed the restaurant in 1990 (and the store two years later), but during the holidays the Indiana State Museum would hold special holiday-only Tea Room lunches in the old building at 202 N. Alabama St. When the new state museum building opened in May 2002, the Tea Room had a new home.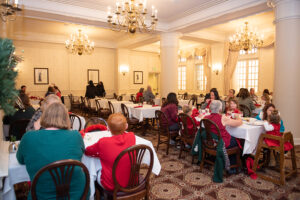 These days, the Tea Room is open for lunch during the holiday season through Jan. 2 and is available for rental by private dining groups of 15+ guests year-round.
This was Katie and Kimberly's first visit to the Tea Room, "but we do compare every chicken velvet soup to this," Katie said. "It's delicious."
And so, they expect to be back in future years.
"I think so," said Katie.
"Absolutely," said Kimberly.
"Now that we have a little one in the family, we're trying to establish some traditions," said Tracey. "It was nice to base this off something I used to do with my grandmother."
And they figure someday Ellie will bring her kids here.
"I'm pretty sure grandma's going to make sure it happens," Kimberly said.