Published July 30, 2021
Trips and Tips: Visit the Historic Sites, and While You're There…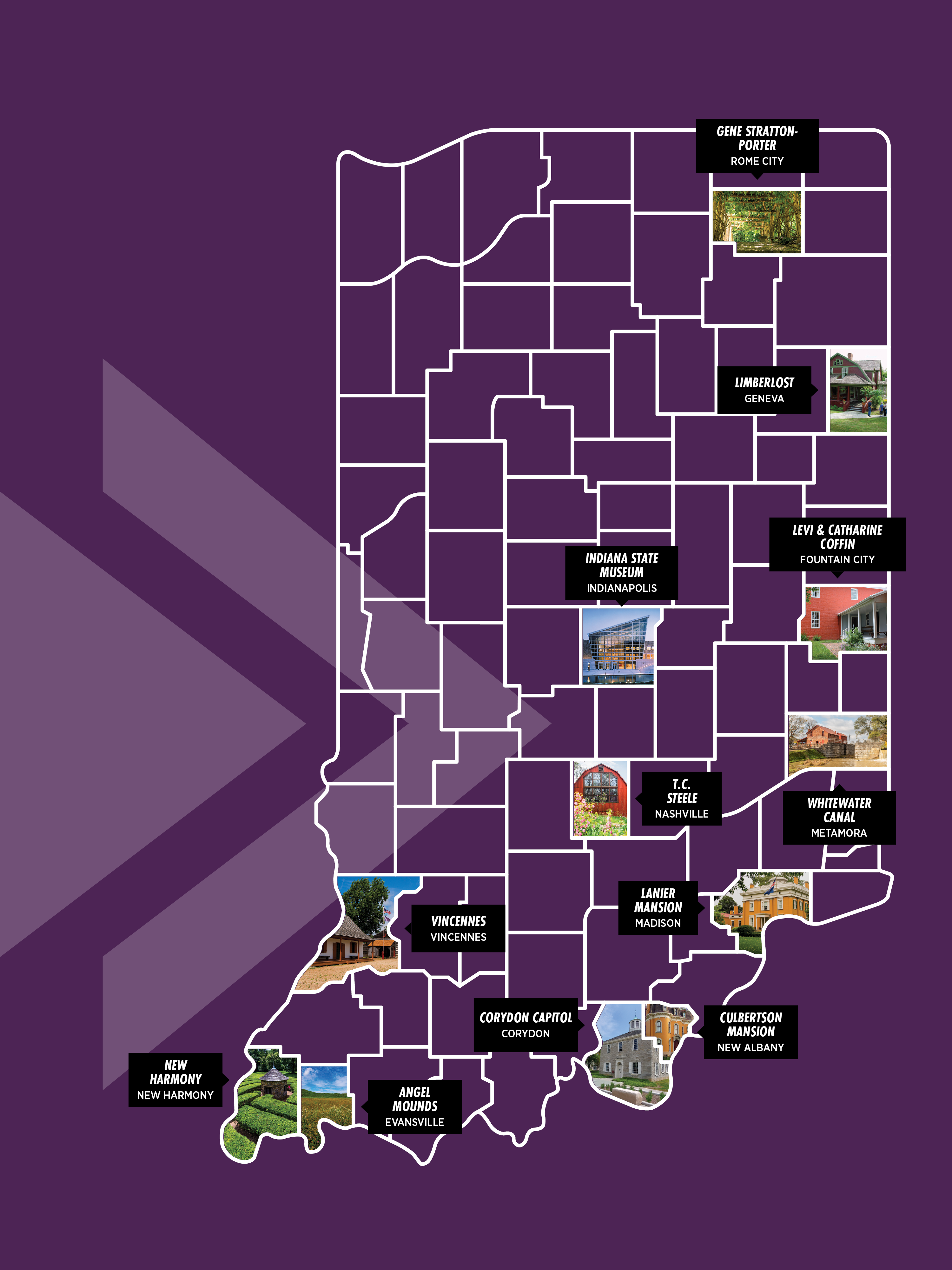 We still have plenty of summer left – lots of time to get in the car and take a day trip, an overnight jaunt or even get away for a weekend.
We think you should visit one or more of our 11 state historic sites – and take advantage of all that's available in their surrounding areas. To help you plan your trip, we put together this guide with recommendations from our site managers and others. We hope it provides some travel inspiration.
Explore by region
NORTH REGION
SPEND THE NIGHT: The Schug House Inn is a 1907 Queen Anne home in Berne that's been converted to a bed and breakfast (B&B). The 45-room Clock Tower Inn, also in Berne, is run by the Muselman family – lifelong Berne residents.
ROUND OUT YOUR TRIP: Other attractions in the area worth visiting include Ouabache State Park in  Bluffton – a great place for fishing; the Museum of the Soldier in Portland; the Ceylon Covered Bridge (the last covered bridge along the Wabash River); and the Swiss Heritage Village and Museum in Berne. And while in Berne, don't miss the 160-foot-tall, multi-million-dollar replica of the Bern, Switzerland, clock tower.
PLAY A ROUND: The nearest public golf course is Wabash Valley Golf Club in Geneva.
HAVE A MEAL: Adams Lake Pub in Wolcottville is noted for its steak, seafood and ribs. For family-friendly dining, try Sylvan Shores Diner in Rome City.
SPEND THE NIGHT: Check out the Brick Ark Inn in Albion, an 1880 home that underwent a major renovation in 2000.
ROUND OUT YOUR TRIP: The Mid-America Windmill Museum in Kendallville displays all windmills manufactured at Kendallville's Flint and Walling Company and now boasts 52. Black Pine Animal Sanctuary in Albion exists "to provide refuge to displaced, captive-raised exotic animals for the REST of their lives and to educate people about responsible animal care and conservation." The Auburn Cord Duesenberg Museum in Auburn offers over 120 cars on exhibit on three levels and nine automotive themed galleries. And you're just a short drive from Shipshewana – Amish country.
PLAY A ROUND: Kendallville is home to two nice golf clubs, Cobblestone Golf Course and Noble Hawk Golf Links.
CENTRAL REGION
HAVE A MEAL: Galo's Italian Grill and Old Richmond Inn, both 15 minutes away in Richmond, are recommended for fine dining. Good family fare can be found at Little Sheba's and Firehouse BBQ and Blues in the Richmond Depot District.
SPEND THE NIGHT: Seldom Scene Meadow Bed and Breakfast's upstairs guest rooms provide a front-row seat to birds and wildlife active in the surrounding woodland and native grass meadow habitats.
ROUND OUT YOUR TRIP: The Wayne County Historical Museum is home to a range of objects that includes an Egyptian mummy and cultural pieces from Europe, Japan, and the Middle East. Thistlewaite Falls is one of the best waterfalls in Indiana and is a place to search for fossils or to hike.
PLAY A ROUND: Highland Lake Golf Course has been a local favorite since 1972.
HAVE A MEAL: The Hav-a-Bite Diner in Metamora is open every day serving up comfort food. Of the Earth Café makes home-cooked specialties like flatbread pizzas, sandwiches and bakery items. El Reparo, nine miles away in Brookville, serves Mexican food, and Ainsley's Cafe & Harbor Bar, which overlooks Brookville Lake in Liberty, is the place for steaks, burgers, pizza and more. At The Sherman, about 15 miles away in Batesville, you have the choice of a biergarten, a restaurant with an American-German bistro menu, and a bar.
SPEND THE NIGHT: In addition to food, the aforementioned Sherman is a 168-year-old boutique hotel with 22 guest rooms. The Metamora Inn is a bed and breakfast in the heart of Metamora.
ROUND OUT YOUR TRIP: Brookville Lake State Park, the area's biggest tourism spot, has more than 25 miles of hiking trails, boating opportunities, fishing, two beaches and more than 400 campsites. Take a ride on the Whitewater Valley Railroad. Or visit nearby Oldenburg, settled in 1817, a charming town with a German heritage.
PLAY A ROUND: Brook Hill Golf Club in Brookville and Harbor Links in Liberty are open to the public.
HAVE A MEAL: There are a slew of restaurants in proximity. The upscale ones – C3, FARMbloomington, Uptown Café and Truffles Fine Cuisine & 56 Degrees Bar – are all in Bloomington. The casual eateries – Big Woods Pizza, The Bird's Nest Café and Hob Nob Corner Restaurant – are in Nashville.
SPEND THE NIGHT: The Artists Colony Inn in Nashville has 23 rooms and its own restaurant; the Brown County Inn is a 65,000-square-foot hotel, restaurant and bar.
ROUND OUT YOUR TRIP: Aside from the shopping in Brown County and fall foliage, you can continue the art theme of your trip by visiting the Brown County Art Guild and Brown County Art Gallery.
PLAY A ROUND: Salt Creek Golf Retreat is a local favorite.
SOUTHEAST REGION
HAVE A MEAL: Brooklyn and the Butcher calls itself a "modern steakhouse." Seeds and Greens calls itself a "natural market and deli" that serves sandwiches, salads and smoothies.
SPEND THE NIGHT: The Pepin Mansion bed and breakfast in New Albany was built in 1851 and restored in 2013. Just over the bridge in Louisville is The Bed and Bike B&B, which provides complimentary bikes during your stay.
ROUND OUT YOUR TRIP: Take a walk across the Big Four Bridge, which crosses the Ohio River connecting Waterfront Park to Jeffersonville, and take a tour of the Falls of the Ohio State Park to see its 390-million-year-old fossil beds.
PLAY A ROUND: Cherry Valley Golf Course is a nine-hole course in New Albany built in 1932.
HAVE A MEAL: Harry's Stone Grill specializes in steaks, seafood and pasta. Crafted Coffee & Cafe is the place for sandwiches, soups, coffee and pastries. And you should have a burger at Hinkle's Sandwich Shop.
SPEND THE NIGHT: The Hillside Inn – which is, indeed, on a hillside – boasts that it hosted Frank Sinatra, Dean Martin and Shirley McClaine during the filming of "Some Came Running" in 1958. The Clifty Inn puts you in the middle of Clifty Falls State Park.
ROUND OUT YOUR TRIP: Clifty Falls State Park offers year-round hiking and ever-changing scenery. Or take a river tour, which can last from a couple of hours to a couple of days.
PLAY A ROUND: Sunrise Golf Course, located on the banks of the Ohio River, has been a local favorite since 1963.
HAVE A MEAL: Bistro on Chestnut (formerly Tavolo Italian Bistro) offers a menu that includes both steak Diane and spaghetti and meatballs. Frederick's Café is a place for comfort food, and be sure to get a milkshake at Butt Drugs.
SPEND THE NIGHT: The 14-room Kintner House Inn bed and breakfast traces its root to 1830.
ROUND OUT YOUR TRIP: The high-tech, interactive galleries at the Harrison County Discovery Center allow you to walk in the footsteps of history to explore the importance of Harrison County in the development of Indiana. Zimmerman Art Glass is the second-oldest family run studio glass factory in the United States.
PLAY A ROUND: Old Capital Golf Club is one of the top public courses in southern Indiana.
SOUTHWEST REGION
HAVE A MEAL: Madeleine's Fusion Restaurant in Evansville specializes in dishes such as rack of lamb and steaks, and The Landing in Newburgh is fancy and family friendly. Also in Newburgh, you'll find fried fish, chicken and more at Knob Hill Tavern.
SPEND THE NIGHT: Le Merigot Hotel, in the city center, is a short walk from the Tropicana Evansville Casino. Cool Breeze Bed and Breakfast, in Evansville's historic district, was once the home of truck and auto builder Joseph Graham and then John Giltner Igleheart of Swans Down Cake Flour.
ROUND OUT YOUR TRIP: Tour the LST-325, the last remaining fully functioning LST (Landing Ship, Tank), located in downtown Evansville, or visit the Evansville Museum of Arts, History & Science.
PLAY A ROUND: Victoria National Golf Club in Newburgh is also designated a Certified Audubon Cooperative Sanctuary.
HAVE A MEAL: The "charming and romantic" Red Geranium serves seasonal American cuisine and Midwest favorites. Mary Scott's Kitchen describes itself as "casual fine dining," and the Yellow Tavern is "where friends meet for a cold beer and pizza."
SPEND THE NIGHT: The 90-room New Harmony Inn Resort and Conference Center boasts four historic guest houses and private gardens. Sophie Grace's Bed and Breakfast, an arts-and-crafts-inspired home built in 1929, once operated as a working farm.
ROUND OUT YOUR TRIP: The Atheneum houses visitor information, the Museum Shop, and is the starting point for guided walking tours of historic structures. Tillich Park, which commemorates Paul Johannes Tillich, a German-American theologian and Christian existentialist philosopher, features a pine-needle-covered path that winds through a forest of Norwegian Spruce.
PLAY A ROUND: Thunderbolt Pass, on the north side of Evansville, is open to the public.
HAVE A MEAL: The Cafe Moonlight promises "a sense of peace and contentment" and menu of chicken, fish and steak. Procopio's is the place for pizza and pasta.
SPEND THE NIGHT: The Log Ends Farm Bed & Breakfast, in nearby Petersburg, is nestled in the countryside on a working farm that grows grain, hay and livestock.
ROUND OUT YOUR TRIP: At George Rogers Clark National Historic Park, you'll learn about how the American colonel defeated the British at Fort Sackville in 1779. The Indiana Military Museum is "dedicated to fostering the memory, understanding and appreciation of U.S. military history," and the Red Skelton Museum of American Comedy is dedicated to the appreciation of the comedian.
PLAY A ROUND: Despite the name, Country Club of Old Vincennes is a public course.