Released January 21, 2021
Art and History Meet Nature in New Indiana State Museum Exhibit
INDIANAPOLIS – State of Nature: Picturing Indiana Biodiversity, a fine art/natural history exhibit featuring artifacts from Indiana's prehistory alongside visual art documenting biodiversity in Indiana and looking at humans' impact on the environment, will open Feb. 13 in the Indiana State Museum's NiSource Gallery.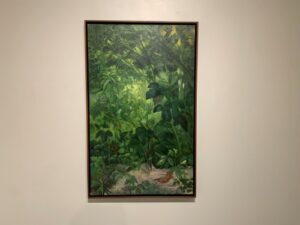 Visitors will encounter wolf specimens from the museum's collection and a reproduction sloth skeleton, as well as two paintings by Indiana Dunes plein air artist Frank Dudley and contemporary art from 15 artists with Hoosier connections including Lucinda Devlin, Casey Roberts, Bonnie Sklarski, David Morrison and Dornith Doherty.
This experience also will feature activities for children and families to build their own bird nest and sloth claw, and to get them thinking about how the environment and people are connected. There will even be a soundtrack featuring music from composers whose works are inspired by scientific data and nature.
State of Nature runs through Sept. 19. The museum, located at 650 W. Washington St. in Indianapolis, is open from 10 a.m. to 5 p.m. Wednesdays through Sundays. Admission is $17 for adults, $16 for those 60 and older, $15 for students with a valid ID from any Indiana college or university, and $12 for youth ages 3 to 17. More information is available at https://www.indianamuseum.org/experiences/state-of-nature/
"There's a lot of scientific data about climate change," said Indiana State Museum and Historic Sites Exhibit Developer Cathy Donnelly. "How do you process that? Art, in particular, can help bridge that gap between scientific data and our emotions about climate change.
"We're inviting people to come to the museum to think about what the artists are trying to convey through their artwork. As they see and experience the exhibit, we are hoping to engage them in conversation about what's happening to our environment."
State of Nature was conceived and curated at Indiana University-Bloomington by Betsy Stirratt, director of the Grunwald Gallery of Art, Indiana University, and Distinguished Professor Roger P. Hangarter to encourage an aesthetic appreciation of the natural world in Indiana. The exhibit comes to the Indiana State Museum following its run at the Grunwald Gallery last fall.
"Visitors will see artifacts alongside contemporary art," said Cathy Ferree, president and CEO of the Indiana State Museum and Historic Sites. "This was done to create an out-of-the-ordinary learning experience and to promote a deeper understanding of our environment. This opportunity offers visitors a visually compelling place to explore, examine, question, connect to and contemplate how we treat the natural world."
Organizers chose artwork by artists who had a connection to Indiana and whose ongoing practice focused on the environment, hoping to build a bridge between complicated scientific data and personal or emotional reactions to the crisis.
In Suzanne Anker's Biota, for example, the artist took sea sponges and dipped them in porcelain slip, then fired them, creating a beautiful and haunting piece that will inspire visitors to think about what is happening to our oceans.
"There are many ways to process climate change and the impact people have on the environment," Ferree said. "A museum experience like this one may inspire visitors to think about this topic from a different perspective and take action."
# # #
The Indiana State Museum and Historic Sites is a statewide museum system with 12 locations, offering visitors a chance to engage with Indiana's past and present and see how their actions help shape the future. At each location, visitors are invited to explore big questions and create lasting experiences that will resonate long after each visit ends. Whether interested in art or architecture, history or science, there's something for everyone and every interest. The Indianapolis museum is located in White River State Park in the heart of downtown Indianapolis. The historic sites are located statewide, stretching from Rome City in northeastern Indiana to Evansville in the southwest.