Released August 23, 2023
Celebrate Underground Railroad Month at Levi and Catharine Coffin State Historic Site
FOUNTAIN CITY — For the third-straight year, the Levi and Catharine Coffin State Historic Site will celebrate International Underground Railroad Month by offering special tours and family-friendly events throughout the month of September.
International Underground Railroad Month began in 2019 in Maryland, and September was chosen because it was the month Harriet Tubman and Frederick Douglass escaped from slavery.
Gov. Eric Holcomb signed a proclamation in 2021 recognizing International Underground Railroad Month in the state of Indiana. The proclamation, which was drafted by Central Regional Director and Site Manager for the Levi and Catharine Coffin State Historic Site Joanna Hahn, honors the contributions the Coffins and other Indiana abolitionists made before and during the Civil War to help more than 1,000 freedom-seekers escape from slavery.
"By recognizing International Underground Railroad Month, Hoosiers can have a larger understanding of how citizens like them were instrumental in standing up against the inhumane practice of slavery," Hahn said. "But they also can understand the lengths and reach of the Underground Railroad."
This year's events will begin with the Historic Newport Walking Tour, 3:30-5 p.m. Sept. 2. Starting at the historic site, visitors will see several locations in the town once known as Newport (now Fountain City) and learn how the community came to be a place of safety for freedom-seekers.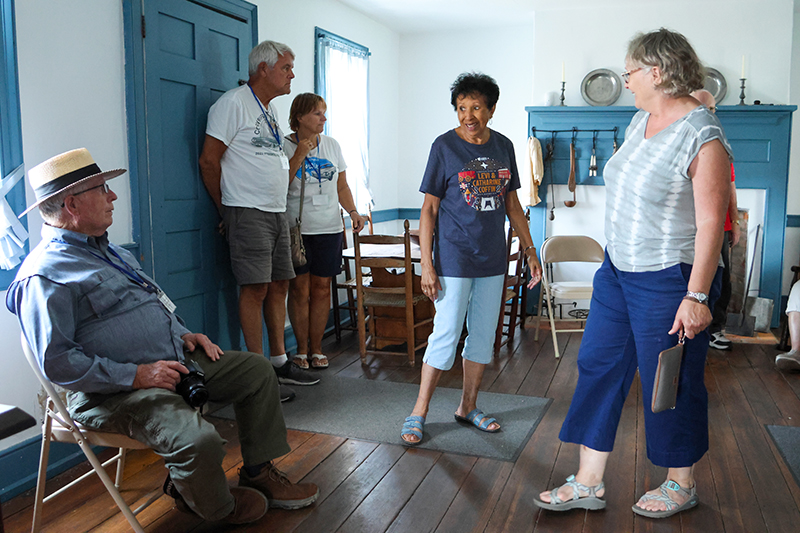 The annual Levi Coffin Days outdoor festival, hosted by the Fountain City Lions Club, will take place Sept. 16-17 and feature vendors, food, special tours, a parade and more. As part of the festival, visitors can hear Levi Coffin — nicknamed the president of the Underground Railroad — recount his travels and trials while assisting freedom-seekers. That live performance, called To Do Right: Levi Coffin and the Underground Railroad, will be held from 1-2 p.m. on Sept. 16 at the historic site.
Community members can participate in the Influencing Lincoln Talk from 6-7:30 p.m. on Sept. 29 at the historic site's interpretive center. This engaging discussion will feature the museum Curator of Social History Kisha Tandy and Chief Curator and Research Officer Susannah Koerber, who helped co-curated the Indiana State Museum's exhibit of the same name.
Tickets are required for some International Underground Railroad Month events and can be purchased online through the Indiana State Museum and Historic Sites website.
Additionally, visitors can make a reservation for a free tour of the Coffins' home, located on Highway 27, to see what life was like for the Quaker couple during the Civil War era. Among many highlights in the modest house, which became known as "the Grand Central Station of the Underground Railroad," visitors can peer inside a narrow cubby on the second floor that once concealed freedom-seekers as they made their way north on the Underground Railroad. Tours begin in the interpretive center and are regularly offered at 10:30 a.m. and 1:30 p.m. Wednesdays through Sundays.
# # #
The Indiana State Museum and Historic Sites is a statewide museum system with 12 locations, offering visitors a chance to engage with Indiana's past and present and see how their actions help shape the future. At each location, visitors are invited to explore big questions and create lasting experiences that will resonate long after each visit ends. Whether interested in art or architecture, history or science, there's something for everyone and every interest. The Indianapolis museum is located in White River State Park in the heart of downtown Indianapolis. The historic sites are located statewide, stretching from Rome City in northeastern Indiana to Evansville in the southwest.