Released January 6, 2022
New art exhibit opens at Indiana State Museum
INDIANAPOLIS – The Indiana State Museum and Historic Sites has significantly added to its vast fine art collection over the past several years. Twenty-six of those recently acquired pieces will be on display at the museum from Feb. 5 to July 17 in a new exhibit called "Collecting Indiana: Recent Art Acquisitions."
Works include historical paintings – a beautiful French landscape painting by Nashville, Indiana, artist L.O. Griffith – a contemporary sculpture by well-known Indiana author James Alexander Thom and a 7-foot-by-9-foot example of papel picado (a traditional Mexican craft that features colorful paper sheets with intricate cut-out details) by artist Beatriz Vasquez, who was born in Brownsville, Texas, but lives in Indianapolis and studied at the Herron School of Art + Design.
A full list of artists and artworks is below.
"Collecting Indiana" is free with admission to the museum — $17 for adults, $16 for seniors 60 and older, $15 for college students, $12 for children ages 3-17, and free for children younger than age 3. For more information, visit indianamuseum.org or call (317) 232-1637.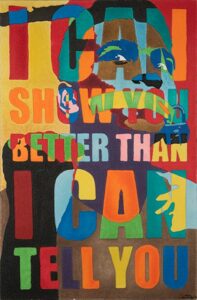 The Indiana State Museum and Historic Sites owns more than 7,000 works of art, one of the largest state-owned collections in the country. For more than a century – and even during a pandemic – the museum has purchased or accepted donations of work by artists who were either born or lived in Indiana, or their time here had a significant impact on their development as an artist.
"When much of the world was shutting down, we were busy collecting," Senior Curator of Art and History Mark Ruschman said. "And many opportunities came our way because people were home and taking stock of the things they owned and where they would like them to end up."
The works collected cover a variety of subject matter, techniques and backgrounds of the artists. At the same time, Ruschman said, the collection has become much more diverse in its representation of race, gender, styles and subject matter to better reflect the population of the state.
"I'd like our visitors to take away that we have a vibrant and diverse collection that represents the artists of Indiana and all the various subjects associated with Indiana," Ruschman said. "It's a documentation of experiences associated with the state, both historical and contemporary, that reflects an ever-changing world."
The artists and pieces to be displayed in "Collecting Indiana" are:
Philip Campbell, "Cuffs and Collars" (Marion County)
Derrick Carter, "Show & Tell" (Marion County)
Deonna Craig, "Bubble Vision" (Marion County)
Willis "Bing" Davis, "Ancestral Spirit Dance #443" (Dayton, Ohio)
Willis "Bing" Davis, "Community Revitalization Dance Mask #11" (Dayton, Ohio)
The Droops, "Soft Serve" (various counties)
Bill Foley, "One-Room Schoolhouse" (Marion County)
Joel Fremion, "The Artist's Studio" (Wells County)
Gary Gee, "We The People…" (Marion County)
John Paul Gee, "Xenred" (Delaware County)
Marie Goth, "Harley W. Rhodehamel III Portrait" (Brown County)
L.O. Griffith, "The River Aven" (Brown County)
Robert Indiana, "Stable Gallery" poster (Henry County)
Harold Tuck Langland, "Reaper" (St. Joseph County)
David Morrison, "Paper Wasp Series #3" (Marion County)
Lisa Pelo, "Reality is Not in Black and White" (Marion County)
Betty Scarpino, "Dialogue of Desire" (Marion County)
Myra Schuetter, "Political Circus" (Dubois County)
Lois Main Templeton, "Old Identities" (Marion County)
James Alexander Thom, "Infinity ½" (Owen County)
Beatriz Vasquez, "Mother Nature All Dressed Up" (Marion County)
Alex Warnick, "Eastern Screech Owl" (Bartholomew County)
Alex Warnick, "Passenger Pigeon" (Bartholomew County)
Elizabeth (Libby) Whipple, "Sunset in Avon" Hendricks County
Keith Woods, "IN This Together" (Howard County)
Dan Woodson, "Betty's Cabin" (Delaware County)
# # #
The Indiana State Museum and Historic Sites is a statewide museum system with 12 locations, offering visitors a chance to engage with Indiana's past and present and see how their actions help shape the future. At each location, visitors are invited to explore big questions and create lasting experiences that will resonate long after each visit ends. Whether interested in art or architecture, history or science, there's something for everyone and every interest. The Indianapolis museum is located in White River State Park in the heart of downtown Indianapolis. The historic sites are located statewide, stretching from Rome City in northeastern Indiana to Evansville in the southwest